About South Station
Located just outside of Downtown Crossing, South Station is one of the primary train stations serving the Boston area. Constructed and opened in 1899, the station's neoclassical architecture was inspired by the style of Boston local Henry Hobson Richardson. Now, Boston's South Station is the busiest station serving the New England area and sees just over 21,000 visitors every day.

South Station offers services with Amtrak, MBTA, as well as other local bus transportation.

Things to do Near South Station
Located just a six minute walk from Downtown Crossing, there is no shortage of things to do around South Station! Whether you're looking to make a short shopping trip before catching your train, or thinking about how to spend your first day in Boston, here are a few activities you can do in the area.

Take a stroll in Boston Common and enjoy the sun during the summer or ice skating in the winter

Catch a show at the Boston Opera House and see what's touring in town from Broadway.

Go shopping at some major department stores or at one of the oldest and largest book stores in the nation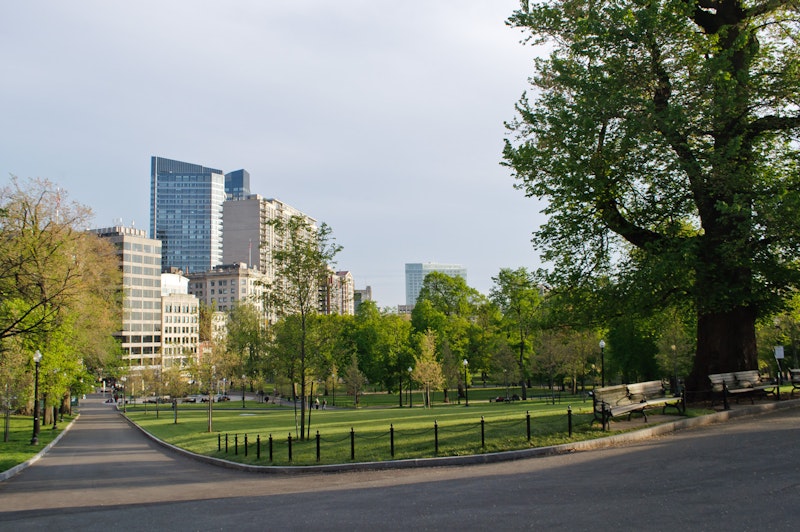 Transit Options
MBTA T: Red Line

MBTA Bus: Silver Lines SL1, SL2, and SL3

MBTA Rail: Fairmount Line, Framingham/Worcester Line, Franklin Line, Greenbush Line, Kingston/Plymouth Line, Middleborough/Lakevill Line, Needham Line, Providence/Stoughton Line

Regional Bus Lines: Bolt Bus, Megabus, Greyhound, Peter Pan, Concord Coach Lines, Boston Express, Dartmouth Coach, Lucky Star, Plymouth and Brockton, C&J, Dattco
 Luggage Storage Near South Station
Whether you're getting ready to leave or just got in to Boston, don't spend any of your time in the city wondering about where to store your bag. Use Bounce to find reliable luggage storage near South Station so you can drop and go. We know how difficult it can be to enjoy your visit when you have to drag your bags around. We have had the same problem when we travel. But with our Bounce locations all over the world, you can leave your bags with us while you explore. We partnered with local businesses like hotels, dry cleaners, and museums so you can feel comfortable dropping off your belongings for safekeeping. If you are a local, you can use our services as well when you don't feel like going all the way back home before hitting the club.

Luggage Storage Options Near South Station
Don't struggle with your luggage during your visit to South Station. There is so much to see and do, you don't want to have to watch over your things while trying to have fun. Download our Bounce app, find the nearest location, and drop off your bags for safekeeping while enjoying Boston. 

Luggage Storage Near Boston Tea Party Ships and Museum

On Congress Street just five minutes from the station, join the movement at the Boston Tea Party Ships and Museum. The Boston Tea Party was a political protest by Americans in 1773 over tea taxation. The protesters dropped 342 chests of tea into the harbor at Griffin's Wharf in Boston to get the British to stop taxing the tea. At the museum, be a part of the reenactment of the event with full-scale ships. At the meeting house, join the Sons & Daughters of Liberty and find out what role you will play in the act. Toss the tea chests over the side of the boat just as they did in 1773. In the museum, you'll see the only tea chest left from the actual Tea Party as well as many other artifacts. Drop your things at one of our Bounce locations on your way. 

Luggage Storage Near the New England Aquarium

Also five minutes away is the New England Aquarium on Central Wharf Road. They have 15 different exhibits and hundreds of aquatic creatures to see on five levels. On the plaza level, you can go on a whale watching tour, see the ocean center, ride the Duck Tours, and see harbor seals. Level 1 has jellyfish, penguins, the mammal center, sharks, and the touch tank. Level 2 has the temperate water gallery. You'll find the northern waters gallery, edge of the sea tidepools, and the freshwater gallery on level 3. And on level 4, the giant ocean tank and Yawkey coral reef center await. The Harbor View Café has a plethora of foods to choose from when you get hungry. And don't forget to stop by the gift shop to get some awesome souvenirs. Be sure to get the camera out of your bags before dropping them off at one of our Bounce locations nearby.  

Luggage Storage Near Boston Common 

Just under 10 minutes from the station, the country's oldest park, Boston Common, can be found on Tremont Street. It was founded back in 1634 as "common grounds" to be used by the townspeople, which is where it got its name. With 50 acres of green space, the park is now a historic site with many memorials and statues to see. Visit the Frog Pond while you are there. It hosts ice skating in the winter and a spray pool in the summer. The 2.5-mile Freedom Trail also starts here where you can see historic sites like the burying grounds, meeting houses, and churches. And don't leave without taking a ride on one of the Swan Boats. They have been in the Paget family since 1870 and are a great way to see the park from a different viewpoint. You cannot bring your luggage though, so stop by one of our Bounce locations before you come.