More about Boston
Store Your Luggage in Boston
As one of the oldest major cities in the United States, Boston is chock-full of both historic and modern sites begging to be explored. Its red-brick buildings and brownstones give the quaint feel of a storied, cozy town, while its narrow streets invite locals and visitors alike to traverse its charming neighborhoods by foot. You'll be hard-pressed to find natives with more pride for their city than those of Boston, and after spending time here, it's not difficult to see why. If you're navigating your way through Beantown and need to store your things for a few hours or a few days, book confidently with Bounce.

For Locals
Are you a local who needs to temporarily store your things so you can hop from one activity to the next without being held back by extra weight? Drop off your work bags, gym bags, and whatever else with a Bounce partner for bag storage in Boston.

For Tourists
Heading to Boston for work or play? Perhaps you have only a limited time to explore the city, or you're planning on going directly from the airport or train station to a point of interest. Gain the freedom to experience the city without lugging your things about with Bounce luggage storage in Boston.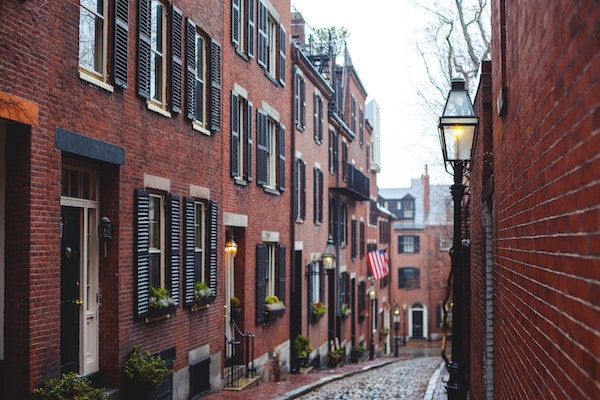 Luggage Storage in Boston
As urban dwellers and frequent travelers, we created Bounce since we learned that convenient, affordable options for short-term bag and luggage storage were few and far between. We're proud to offer Bounce as a solution for all of your bag storage needs in Boston. Simply locate a Bounce partner near you, drop off your things, and enjoy New England's most popular city with your hands and shoulders free.

Store Your Luggage Around Boston With Bounce
Boston has quite a storied past, making it an excellent place to visit when learning more about the United States' humble beginnings. It is one of the oldest cities in the country and is now the capital of Massachusetts. Located on the Shawmut Peninsula, the city was founded by Puritan settlers in 1630. 

Boston is best known for the Boston Massacre, Battle of Bunker Hills, Boston Tea Party, and Siege of Boston, all events that occurred during the American Revolution. Once the United States won independence from Great Britain, Boston continued to be an important port, manufacturing city, and political hub. The city is home to the first public park in the United States, Boston Common, established in 1634. The first subway system was created in 1897, called the Tremont Street Subway. The United States' first public school was started in 1635 in Boston. 

Today, Boston is home to Harvard University, MIT, Tufts University, and Boston University, just to name a few of the colleges, universities, and trade schools located in and around the city. With Boston's deep historical roots and zeal for higher education, you can easily spend weeks exploring all the city has to offer. If visiting for only a few days, sign up for some walking tours of downtown Boston and also food or pub tours to learn more about this eccentric city. Parts of the movie National Treasure, starring Nicolas Cage, was filmed in Boston, giving you a glimpse into the historical buildings that make up the city. 

Luggage Storage in Boston
Locals and tourists have discovered the convenience of using Bounce when out and about in Boston. Bounce offers short-term luggage storage services throughout the city so you can easily drop your belongings for safekeeping and head out to explore. You do not want to be weighed down with heavy bags while visiting the different neighborhoods in this diverse city. Download the Bounce app and use it to find a location in the neighborhood you will be exploring. 

Boston City Guide
Top Things to Do

Being one of the oldest cities in the country makes Boston a treasure trove of historical artifacts. Bring your sense of adventure and start your Boston getaway off on the right foot by making a plan of places to visit. Whether you are tracing the steps of Nicolas Cage's character, Benjamin Franklin Gates, in the movie National Treasure or just in town for a relaxing weekend, check out some of the must-see sites of the city. 

Museums

Taking in the sights in one of the oldest cities in the United States can be mind-boggling. Boston has so many historical highlights you can easily spend weeks exploring. But, if you only have a few days to look around, you may want to check out some of these fantastic spots.

Boston Tea Party Ships & Museum: Hop aboard this floating museum filled with multimedia exhibits, live reenactments, and even a tearoom. Stroll through artifacts that have historical importance while learning via interactive multimedia about the history of the artifacts and the significance of the Boston Tea Party. The museum itself is housed in a restored tea ship. Grab a coffee or tea at the café after you have explored the museum. 

John F. Kennedy Presidential Museum & Library: The museum is dedicated to the life of John F. Kennedy. The library is home to several works devoted to his legacy and leadership, including periodicals from his presidency and death. The museum has an outdoor walkway that overlooks Dorchester Bay. Stroll through the exhibits showcasing many of Jackie Kennedy's iconic dresses. Stop by the gift shop for interesting souvenirs.

Skywalk Observatory: Step out on the Skywalk for fascinating views of Boston's skyline. You will get a 360-degree view where you can snap social media-worthy photos. Located in the Prudential Tower, grab an Acoustiguide tour to learn more about Boston's history. 
Shopping

While in Boston, you will want to explore some of the iconic markets throughout the city. Boston is exploding with artisan shops, trendy boutiques, gigantic shopping malls, and lively markets. You will want to experience haggling with locals at the markets or browsing the racks at one of the shopping centers. 

Quincy Market: Built in 1824 and named after Mayor Josiah Quincy, the Quincy Market is a lively, exciting market filled with vendors hawking their wares from knick-knacks to textiles to fresh produce and baked goods. Check out the food hall before you head back to your hotel.

Faneuil Hall Marketplace: Another iconic market in Boston, the Faneuil Hall Marketplace is housed in three buildings, and when the weather is nice, spills out onto the promenade. This market is home to some eclectic gift shops, cute chain shops, and interesting restaurants. There are meeting rooms upstairs and a small art gallery featuring local artists.

Prudential Center Boston: Drop by this urban shopping center located in Back Bay at the base of Prudential Tower. Wander through shops such as Saks Fifth Avenue, Under Armour, Sephora, and Vineyard Vines. Grab a bite to eat at one of the cafés or restaurants located in or near the Prudential Center. 
Dining

Eat your way through Boston by signing up for a food tour where you will learn about the different types of food for which Boston is best known, especially the fresh seafood. When you are not on a food tour, check out the amazing restaurants dotted throughout the city. 

Seafood: Boston is brimming with fantastic seafood restaurants serving delicious and creative dishes. Saltie Girl is a charming seafood restaurant that does fill up quickly, so make your reservations early. Try the grilled lobster, mussels, or calamari made from fresh seafood caught daily.

Pizza: Finding a great slice of pizza in Boston is not as hard as you would think. Regina Pizzeria has been a mainstay in the North End neighborhood since 1956 and offers delicious, innovative pizza and pasta. Grab a classic pepperoni pizza or give one of their specialty pizzas a try. 

Steakhouse: It may seem a bit odd to search for a steakhouse in Boston, but Mooo.... Restaurant on Beacon Hill has thrived in a city best known for its seafood. Classic steaks are paired with modern sides creating a scrumptious and filling meal for steak lovers. You can even order seafood dishes such as clam linguine or oysters, but you may want to try the 12-ounce fillet steak that will melt in your mouth. 
Safety
Boston, Massachusetts, is a city that's steeped in American history. European settlers initially occupied the land that would become Boston in 1630, making it one of the oldest cities in the United States. Since then, Boston has evolved over the centuries to become a city that welcomes all. And, one that learns from its past to better its future. Those efforts include protecting its citizens and its visitors from criminal activity.

Boston ranks 17 on the National Crime Index. A ranking of 1 represents the most dangerous city in a nation, while 100 represents the safest. The National Crime Index reports that, out of a population size of nearly 700,000 people, 1 in every 153 Bostonians may experience violent or physical crime, while 1 in every 46 Boston citizens may experience property-related crime. Overall, you can safely visit Boston if you exercise caution and good judgment. We suggest using Bounce's luggage storage service to keep yourself and your property safe while visiting the city.

Frequently Asked Questions
"What's the best way to get around Boston?"

Out of all the New England states (Massachusetts, Rhode Island, Connecticut, Maine, Vermont, and New Hampshire), Massachusetts is the busiest. One of the reasons why is Boston's immense popularity. The "City of Champions" attracts hundreds of thousands of visitors every year. In our opinion, the best way to navigate through Boston is by car. You can either rent a vehicle, hail a cab, or use ride-sharing services like Uber or Lyft.
"Is public transportation in Boston safe?"

Yes, so long as you stay alert and exercise caution. Boston's public transportation system consists of buses, taxis, trains, and trolleys, all of which are easy to access and very affordable. Most of the people you'll ride with have used Boston's transit system for years. When in doubt, follow their example to stay safe.
"What's the best neighborhood to stay in Boston?"

"What are the best museums to visit in Boston?"

Boston is home to several fantastic museums, each with something for everyone. There is the Museum of Fine Art, Boston's leading collection of art and art history. As well, the Boston Children's Museum and the Institute of Contemporary Art are must-see attractions. Boston also has several unique, one of a kind exhibits - such as the Boston Tea Party Ships & Museum attraction. 
"What's the best time of year to visit Boston?"

Boston is typically busiest during the middle of the year. Between April and September, Boston is filled with large crowds and tons of festivities. If you want to experience the "City of Notions" at its liveliest, you'll want to visit during the spring, summer, or fall at the latest. Boston is also a great place to visit for Christmas and New Year's celebrations.