Luggage Storage United Center
Instantly reserve the best locations near United Center to store your luggage for just $5.90/ day
$10,000 insurance included

Security seals provided for max safekeeping

Book instantly online, free to cancel
How it works
Search Locations

Select the most convenient location for your needs

Book online

Instantly reserve your space in a few clicks

Drop off items

Head to the store and show your reservation

Enjoy the city

Go about your day without lugging around your things
United Center Luggage Storage Guide 2021
Are you wondering, "Where can I store my luggage near United Center?" Perhaps you just arrived in Chicago and need a place to store your bags near United Center before you check into your hotel or AirBnB -- or maybe you just checked out and don't want to drag your bags around with you for the rest of the day.

Perhaps, you're planning on shopping at Randolph Street Flea Market, Hoosier Mama Pie Company, or Essannay Show It and need a place to store your bags. Or, you're planning on sightseeing in the United Center area at Chicago Union Station, Michael Jordan Statue, or North Avenue Beach and don't want to be burdened by your baggage.

Don't worry, there are plenty of options for luggage storage near United Center!


Luggage storage nearby United Center with Bounce
Bounce is one of the largest luggage storage networks in Chicago with multiple locations near United Center.

Featured in The Boston Globe, Techcrunch and Forbes, Bounce is present in more than 100 cities. We partner with local hotels and shops to open up space for you to drop off your bags in essentially any major neighborhood.

Our team vets each location and provides all the security measures including insurance, security seals, and well-trained staff.

Bounce is the #1-rated bag storage network with thousands of 5-star reviews. Many of our shops are open for luggage storage 24/7 but this varies by location… we strategically open new spots so you can find the closest location to temporarily store your bags. Our prices in the United Center area start at just $5.90/day.

Book through our or mobile app (required) so that we can cover you with insurance, space availability, and our 24/7 customer support. We love to travel as much as you so we make it as easy as possible! There are no size limits for suitcases or backpacks stored with Bounce. For less than a cup of coffee per bag, you can enjoy your entire day without dragging your bags with you!

Here are some ideas for making the most of your time in the United Center area now that you are free from your baggage. Some notable places to relax before a flight are Morton Arboretum, Oak Street Beach, and North Avenue Beach. You can also go for a hike around Wooded Island, Roman Pucincki Preserve, and Northerly Island Habitat Development Project. And if you're looking for a night on the town, check out Cobra Lounge, Great Central Brewing Company, and Finch Beer Co.


Why is Bounce the best luggage storage provider in the United Center area?
✅Multiple locations near United Center
✅$10,000 Bounce Guarantee on each booking to protect your belongings
✅Vetted store locations to ensure trust and safety
✅2 minute booking process online or via mobile app, then just walk in and check your bags in
✅Thousands of 5 star reviews, hundreds of thousands of bags stored
How do I store luggage near United Center with Bounce?
You can find the closest luggage storage location to United Center really easily. Simply select a location here. Find the shop that meets your preferences in terms of location & hours. Once you've chosen a location, you can book in under 2 minutes. We'll ask for payment details upfront, but you can cancel your reservation if you end up not needing it.

Space does fill up so booking before you go there is required, but you can show up right away. With your booking confirmation in hand, we'll give you the exact details and directions to the shop. Once there, all you have to do is show your booking confirmation and we'll tag and check in your bags.

You're now free to enjoy United Center and Chicago without your things!


About United Center
United Center is located in the Near West Side neighborhood of Chicago, adjacent to the Loop and west of the Chicago River. Built starting in 1992, the United Center replaced Chicago Stadium upon opening in 1995, and its acoustics have been designed to replicate the famous "Roar" of the old stadium. Now, the stadium is home to the Chicago Bulls basketball team and the Chicago Blackhawks hockey team, where they can be found playing from early October to mid-April. When the Bulls and Blackhawks aren't in season, touring comedians, singers, and other artists will perform at the United Center when passing through Chicago.

Fun fact: United Center is the country's largest arena in physical size but not capacity. Bulls and Blackhawks fans attending games regularly outnumber available seats!

Things to Do at United Center
United Center is especially busy throughout the NBA and NHL seasons, which overlap from early October through mid-April each year. Tens of thousands of Bulls and Blackhawks fans have been cheering on their home teams at United Center for over two decades. In addition to hosting sporting events, United Center has featured major performers such as John Mayer, Celine Dion, Fleetwood Mac, and many others.

Transit Options at United Center
CTA "L": Green and Pink lines at Ashland; Blue Line at Illinois Medical District

CTA "L": Orange, Green, Purple, and Brown lines at Madison; transfer to CTA bus 20 westbound

CTA bus 19 starting southbound at Michigan and Randolph

CTA bus 20 starting from Wabash Street; Metra transfers available via Millennium Station, Ogilvie Center, and Union Station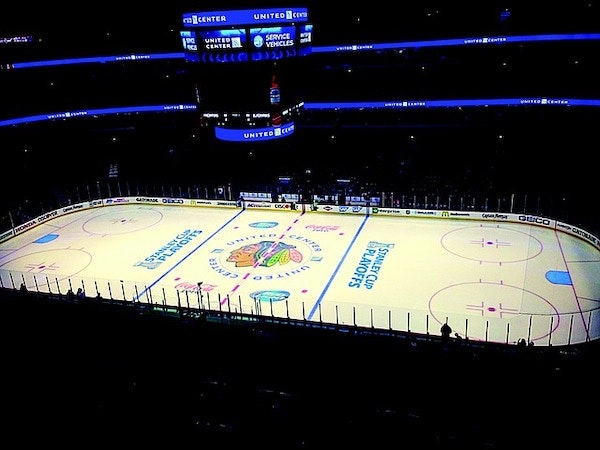 Luggage Storage near United Center
Unfortunately, United Center doesn't allow attendees to bring bags and backpacks larger than 14" x 14" x 6" inside the arena. Even though the arena doesn't offer storage, that doesn't mean you should skip the game because of your luggage!

Whether you're heading to a concert or trying to catch a game, use Bounce for convenient luggage storage that'll keep your bag safe while you're cheering on your favorite teams. Save yourself the hassle and drop off your bags at one of our partners so you can go to the arena hands free.

Choose from our select partners below for hassle-free bag and luggage storage accessible to United Center:

Other places near United Center
Frequently asked questions
How much does luggage storage cost near United Center?

The price for luggage storage near United Center is just $5.90/bag for the entire day.

Is it safe to store your bags near United Center?

Yes. Every bag is tagged with a security seal and comes with the $10,000 Bounce Guarantee. Every location is required to uphold tight security precautions. You may be asked to show ID and you will be required to use a credit card to book through Bounce in advance. With hundreds of thousands of bags stored, you can count on Bounce to handle your baggage near United Center.

Are there storage lockers near United Center?

Yes, there are storage lockers and many other luggage drop off points in the United Center area. Bounce has multiple luggage storage locations nearby United Center and in the broader Chicago area where you can conveniently store your luggage with full security and the $10,000 safekeeping gurantee.

Where are the best restaurants near United Center?

The most popular restaurants to visit when near United Center are Al's #1 Italian Beef, Palace Grill Restaurant, and The Ogden.

Where are the best parks and nature attractions near United Center?

Check out the nearby Morton Arboretum, A. Montgomery Ward Park, and Skinner Park.