More about Chicago
Store Your Luggage in Chicago
As the third-most populous city in the United States, Chicago is the urban jewel of the Midwest. Renowned for world-class architecture, countless parks, and Midwestern charm, the Windy City is loved by visitors and locals alike (even throughout what seems to be an endless winter year after year). Some people consider Chicago to be a cleaner, more hospitable version of New York City, which perhaps contributed to it being the second-most visited city in the US in 2018. At any rate, Chicago is definitely worth exploring, and Bounce's luggage storage locations are here to watch over your things while you do.

For Locals
Do you live and work in Chicago but don't want to be held back by your bags when traveling from one neighborhood or activity to the next? Luggage storage in Chicago isn't just for travelers and tourists. Leave your bags with a Bounce partner so you can live your life lightly and enjoy your day.

For Tourists
Are you making a trip out to Chicago for work or play? Perhaps the logistics of dropping off your luggage and maximizing your time in the city are at odds, or maybe you're backpacking it and want to lighten your load during the daytime. No matter the situation in which you find yourself, leave your luggage with one of our luggage storage locations for just $5.90 per bag a day.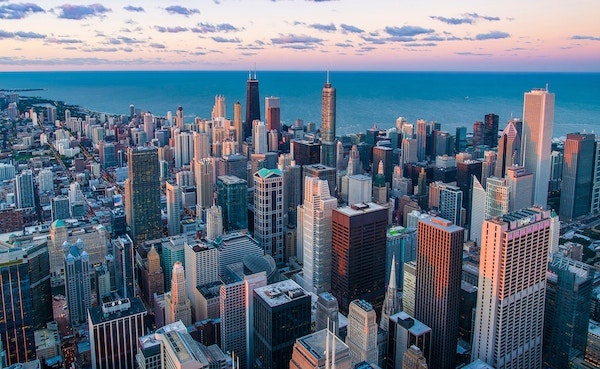 Luggage Storage in Chicago
Bounce is happy to provide on-demand luggage storage in Chicago for affordable daily rates all around the city. We've kept the city's most visited areas, attractions, and hubs of transportation in mind when partnering with local businesses so that our valued customers have the greatest access to bag storage in Chicago. So whether you're looking for luggage storage near the Shedd Aquarium or Chicago Union Station, you'll be able to store your bags in a location that is convenient for you.

Remember that many tourist attractions and transport links won't allow you to store your bags with them, so make sure to check online before you go and find any luggage storage locations you need before you arrive. You can always leave your luggage at a Bounce storage spot if you want convenient, secure luggage storage while you spend the day exploring Chicago.

Safety 
Chicago, Illinois, is one of America's largest Midwestern States. It's also one of the US' most popular tourist locales for several reasons; Chicago is the home of several legendary sports teams, and the city is also lauded for its fine dining experiences. As of 2020, Chicago has a population size of nearly 3 million people. Unfortunately, such a large population means that Chicago experiences more crime than other American cities. Fortunately, you can keep yourself and your loved ones safe by staying informed.

Research shows that Windy City ranks 7th in the National Crime Index. A ranking of 1 refers to the most dangerous cities, and 100 refers to the safest. Chicago purportedly experiences around 115, 279 crimes annually. These statistics are further split into two categories - violent crimes and property crimes. The National Crime Index suggests that 1 in every 99 civilians may experience violent crime, and 1 in every 31 civilians may have their property damaged or stolen. Chicago's violent Crime rate is likely much lower than property Crime due to the efforts of Chicago's Law Enforcement agencies. Ultimately, the Chicago Police Department and your safe practices will protect you from violent crime. However, Bounce can protect your possessions while you visit Chicago and will insure your belongings up to $10,000 while they're stored in a Bounce location for added peace of mind. Wherever you are in Chicago, with Bounce you'll be able to find luggage storage near you.

Frequently Asked Questions
"How can I get to Chicago?"

Besides driving to Chicago, you can also fly into Chicago O'Hare Airport or take the train, which arrives at Chicago Union Station. If you arrive before your accommodation check-in, why not store your luggage in a nearby Bounce location and start exploring everything that Chicago has to offer.
"What's the best way to get around Chicago?"

Traveling through Chicago can be easy, safe, and fun if you properly plan for it. The city is vast, but it's also dense. Depending on where you're going, walking is one of the best ways to travel around Chicago. For long-distance trips, you'll want to either rent a car or ride the bus.
"Is public transportation in Chicago safe?"

Absolutely. Chicago's Police Department has a strong presence in the city. CPD officers do an excellent job of maintaining the peace and responding to criminal activity. In general, you'll have to use your wits to keep yourself and your loved ones safe while visiting Chicago. However, that's true for most large metropolitan cities. The city is also a very bike-friendly city, especially if you obey the rules of the road.
"What's the best neighborhood to stay in Chicago?"

Numerous crime databases rank Evergreen Village as one of the city's safest areas. To be specific, blocks between S Western Ave and W 99th St report few crimes annually. There are plenty of excellent accommodation options across Chicago, too. The Hilton Chicago is a beautiful hotel that overlooks Lake Michigan and Grant Park. The hotel officially opened in 1927 as the Steven's Hotel, and has since become a Chicago landmark and has the most significant event and meeting space in any hotel in the city. The hotel was renamed the Hilton Chicago in 1984 and is still an elite hotel, offering fantastic amenities and personalized experiences.
"What are the best museums to visit in Chicago?"

The Chicago Museum of Science and Industry embodies many of Windy City's core values. Tickets can be purchased online for a discounted price, and there are several pricing plans for visitors. If you're interested in natural history, then Chicago's Field Museum of Natural History is also a top-rated tourist destination, and the Art Institute of Chicago, located next to Millenium Park, is a must for any art enthusiast.
"What are the best places to eat in Chicago?"

There are so many great restaurants to try in Chicago. Whether you're after Chicago-style deep dish pizza at Pizzeria Uno, or you want to have a fine-dining experience on "Restaurant Row," you'' be able to find something to satisfy your cravings in the Windy City. Drop your bags at a Chicago luggage storage spot and make it easier to dine in style.
"What's the best time of year to visit Chicago?"

The best time to visit Chicago depends on the time of experience you want. Visit the Windy City early in the year and you'll experience a quieter, less dense version of the city. Visit during the spring or summer, and you'll find lots of crowds, festivals, and concerts. The city's warmest months are between May and September, but remember to still bring a jacket in case it rains!