About Paris's Gare du Nord Train Station
Many people are familiar with the famous Gare du Nord Train Station in Paris, though they may not realize it immediately. The station, whose name means Station of the North in English, has provided a backdrop for a number of films, including "The Bourne Ultimatum," starring Matt Damon and "Oceans Twelve."

Aside from giving films a cool aesthetic look, Paris's Gare du Nord Train Station is one of six important train stations in the City of Light. About 222 million people come through this station, making it Europe's busiest in terms of passenger numbers. It serves the city's trains that are heading to Northern France, as well as those that will be making stops in the Netherlands, Germany, the United Kingdom, and Belgium.

During its lifetime, the Gare du Nord has undergone a number of renovations to make the station larger. Its current incarnation dates back to 1861. French architect Jacques Ignace Hittorff was tasked with the design of the station, the construction for which lasted from May 1861 to December of the same year. Before Paris hosts the Olympics in 2024, the station will undergo more renovations to make it ready for the games and to allow the station to stay relevant to the times.

Things to Do Near Paris's Gare du Nord Train Station
The beauty of the City of Light encourages walking, and the streets near the Gare du Nord have a great deal to offer the walking adventurer. No matter what sort of adventure appeals to you, there is probably something for you to do near Paris's Gare du Nord Train Station.

Haunted Manor

Who says that Magic Kingdom has the monopoly on haunted tours? If you're a haunted house fan, then you won't want to miss the first legit haunted house created for the entertainment of the public in France. The Manoir de Paris appeals to people who love old horror films, Gothic novels and all manner of creepy crawlies. The house experience includes actors and special effects that are bound to offer even the most ardent horror fan a heart-stopping scare. Keeping your hands free in order to fend off the creepies in this haunted house counts as one of the best reasons to explore your options for luggage storage in Paris near the Gare du Nord.

Canal St-Martin

The Canal St-Martin weaves and winds through the City of Light, making it an easy destination to reach when you need to immerse yourself in nature for a while. A series of drawbridges stretch over its romantic waters, allowing joggers and walkers to cross over the canal. Alongside its waters are tree-lined walkways, where Parisians love to stop to chat, to enjoy a cup of coffee or lunch or to just stare at nature's beauty.

Notre Dame de Paris

While the fire damage to Notre Dame de Paris closed this monument to tourists, it can still be seen from some of the streets nearby. The Gare du Nord Train Station is in the neighborhood, and if you're going to be in the area anyway, you should definitely take at least a gander at Paris's Grand Lady.

Dali Paris

With his melting clocks, disembodied faces and technicolor landscapes, Salvador Dali changed the way we perceive the world. As such, this famous surrealist painter gets his due in Paris in the form of his own museum. What's remarkable about this Dali museum is its particular attention to the artist's sculptures, which don't get as much play in the art world. If your walkabout takes you to the Montmartre district of Paris, be sure to stop in after you locate luggage storage in Paris near Gare du Nord.

A La Mère De Famille

If you've never met a sweet you didn't like, then you'll love A La Mère De Famille, the oldest candy and sweet shop in the City of Light. Stop in when you'd like to sample some chocolate or some sugared almonds. Once you've had your fill of those, you may also want to try some fruit pastes, caramels, or some gourmet jelly beans.

Marché Saint-Quentin

Farmer's markets are a thing in most major cities, but the Marché Saint-Quentin in Paris has a certain je ne sais quoi. Yes, of course, you can find any number of delicious cheeses, seasonal fruits, excellent seafood, and bakeries. But that's not all. This market also has a number of restaurants, allowing the weary walker to sit a spell and refresh before heading out on his or her Parisian walkabout again.

Musee de la Vie Romantique

This Romantic-Era museum gives visitors a lovely look back in time. It's not very well known, which makes it a wonderful place to go when you want to explore Paris and yet, avoid the crowds. Once inside the courtyard, you'll be greeted by stunning roses, happy birds and all manner of things. The inside of the museum houses sculptures, paintings, and furniture from the Romantic Era. If you get hungry, drop by the museum's cafe and have a bite to eat before you embark on the next leg of your Paris journey.

Le Carrousel de Montmartre

There is something sweet and romantic about the Carrousel de Montmartre, which you may recognize from the movie Amelie. It's in Montmartre, one of Paris's most famous neighborhoods. As for the carousel itself, it offers kids and kids at heart the chance to add a bit of fun to their day. It's also stunning in a cinematic way, making the carousel a cool place to come if you want to add a few arthouse-worthy photos of your trip to your portfolio. Before you come, make sure that you locate some options for bag storage in Paris near the Gare du Nord so that you can ride the carousel in a grand style.

Transit Options Near Paris's Gare du Nord Train Station
Once you're inside the Gare du Nord, you'll find a number of other transportation options besides trains, making travel around the city easier. Here's a quick look at some of the transit possibilities in or around Gare du Nord.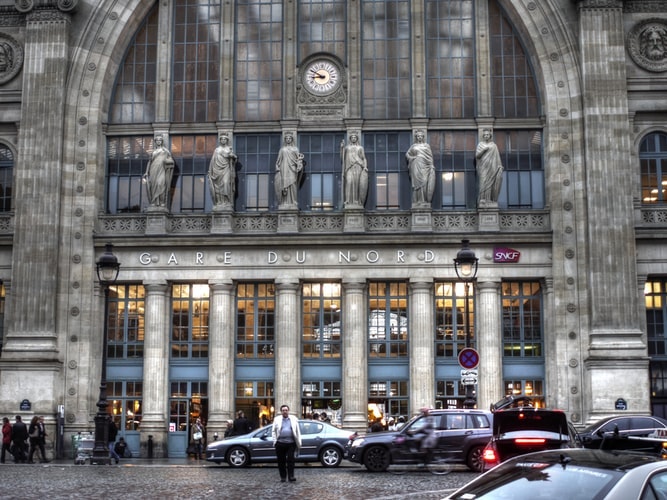 Bounce's Luggage Storage Near Paris's Gare du Nord Train Station
While Bounce doesn't yet have luggage drop-offs in or around the Gare du Nord Train Station - those are coming soon - there are storage lockers inside the train station. These come in a variety of sizes, though at most, a single locker will hold one large bag only. If you need more storage, you might have to rent two or more lockers to accommodate all of your bags. These cost between $6 and $10 to rent.

Be sure to check your Bounce app often to get updates about new luggage storage options in Paris near Gare du Nord and other major bag drop points in Paris. Our luggage storage cost less than $6 a day.