Hotel Vs Airbnb
Published by:

Bounce
30 December, 2022
The most and least affordable destinations for hotels & Airbnbs
Everyone needs a break once in a while, and vacations are a sure-fire way to relax and make new memories. However, vacation costs can add up before you realize and most of us would rather splurge on life-changing events, souvenirs, and exotic food, instead of blowing the budget on a room.

It's difficult to know which type of accommodation is best for your budget.  With Airbnb available in almost every city, from New York to Seoul, it's easier than ever to rent. 

The vacation rental site offers unique stays with stories to tell, and lets hosts make some extra cash while they're out of town, but is it really still that cheap?

We analyzed the prices of Airbnb listings and hotels in 80 top travel destinations, in the US and around the world, to reveal which is a more budget-friendly way to stay.

The top US locations where you can save money by staying in a hotel over Airbnb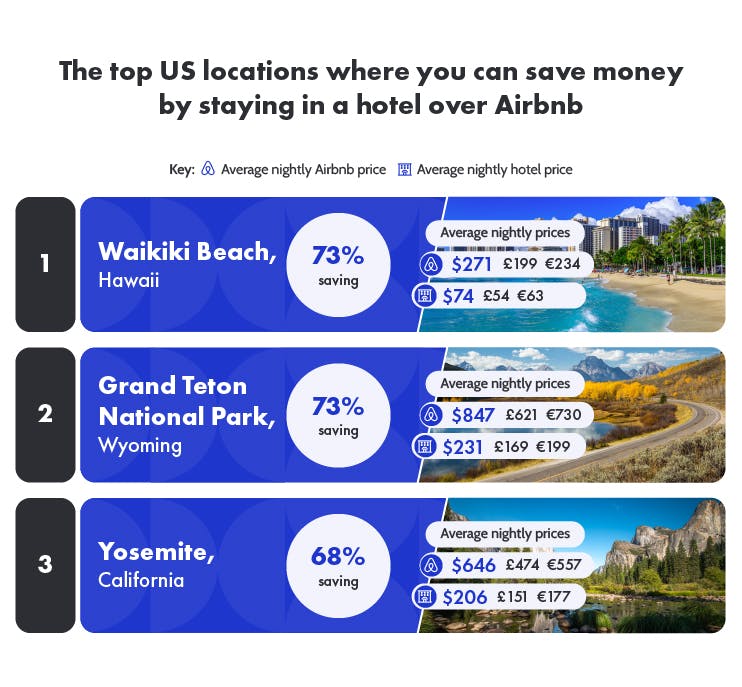 1. Waikiki Beach, Hawaii

Percentage Saving: 72.86%

This stunning Hawaiian paradise is nestled inside the Honolulu neighborhood on Oahu Island. Famous for its white-sand beaches and calm deep blue oceans, Waikiki attracts thousands of tourists every year and is the island's main holiday area.

Although the area has over 300 Airbnb locations, hotels and resorts dominate the coastline. Their prices vary significantly and access to luxuries like a pool and a spa can mean you end up paying much more.

Yet the average nightly price of a double hotel room near Waikiki Beach is just $74, while for a similar Airbnb stay, it would cost you $271! For a 72.9% markup, holiday-goers would be better off choosing the traditional option.

2. Grand Teton National Park, Wyoming

Percentage Saving: 72.79%

When you think of the United States' national parks, Yellowstone, Yosemite or Zion probably spring to mind. However, the equally captivating landscape of Grand Teton national park attracts masses of adventure-seeking tourists.

Renowned for its clear blue lakes, and mountains with beautiful views, visitors to the park have no shortage of things to do, but where you sleep can have a major impact on your bill.

Opting for an Airbnb over a hotel can mean you pay on average 72.8% more! We found an overnight stay near the park would typically cost just $231 in a hotel but a whopping $847 in an Airbnb.  

3. Yosemite, California

Percentage Saving: 68.14%

Almost 2,000 square miles of mountains, waterfalls, and wild creatures can be found at Yosemite national park.

Outdoorsy travelers will be happy to hear you can make a huge saving on accommodation if you choose wisely. To stay overnight in a hotel, you would typically pay $206, while an Airbnb would cost $646!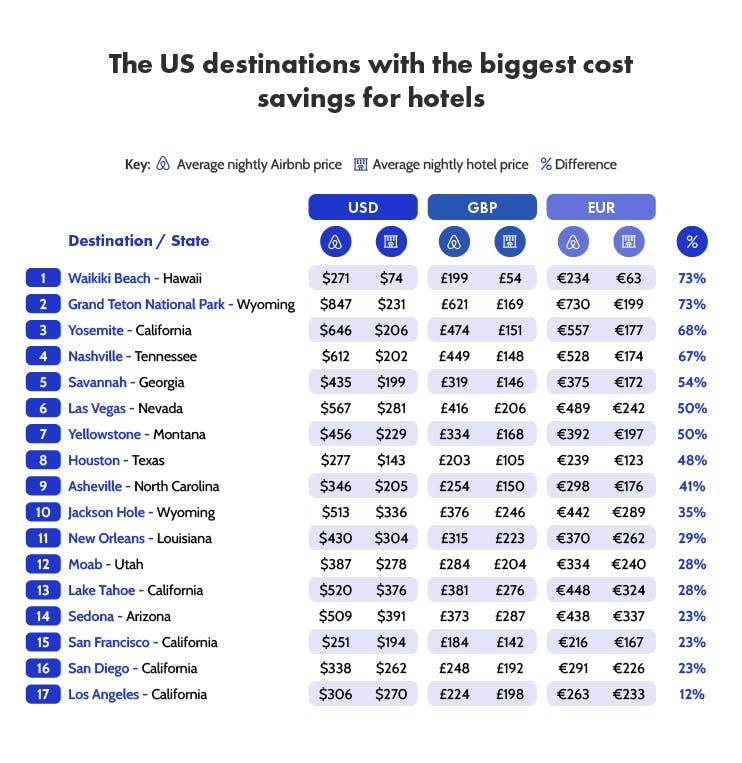 The top US locations where you can save money by staying in a Airbnb over a hotel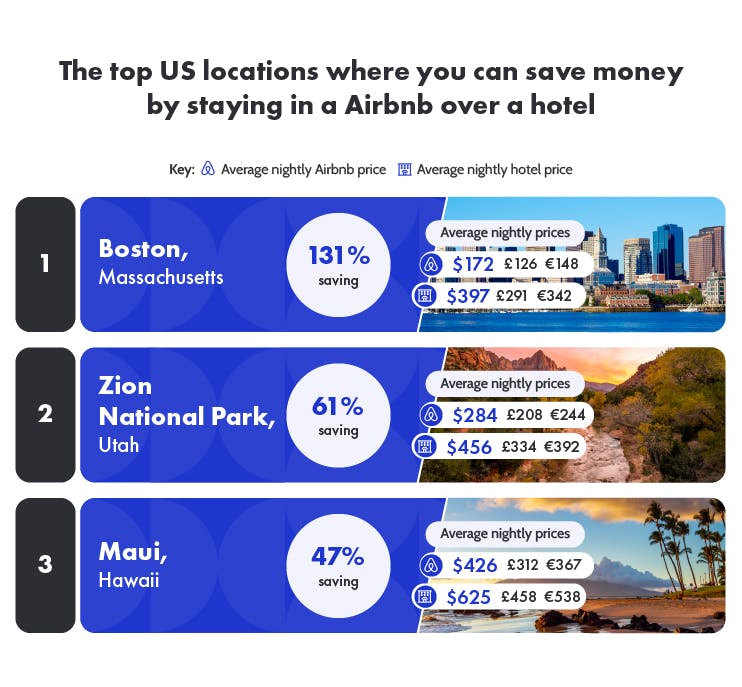 1. Boston, Massachusetts

Percentage Saving: 131%

One of the United States' smaller major cities, Boston makes up for its size with its rich culture. As the birthplace of the American Revolution and home to the Boston Tea Party, it is one of the States' major tourist destinations.

If you're planning a trip to the historical city, your wallet would thank you for choosing Airbnb. A night in a double room of a hotel will typically cost tourists $397, whereas it's only $172 for Airbnb. Meaning you could save over 100% by making the right decision.

2. Zion National Park, Utah

Cost Saving: 61.57% 

Home to Native American tribes over 8,000 years ago, Zion has one of the richest histories of conservation parks in the country. Visitors today can follow native trails or watch the sunset during a drive along the canyon.

Stopping over in a hotel would dent your wallet more than an Airbnb. Hotel rates average at $456 per night, whereas it's almost half the price for an Airbnb! 

Travelers can expect to pay around $284 for one night in a privately rented space, making a 60% saving.

3. Maui, Hawaii

Percentage Saving: 47.27%

In a tropical paradise, you might think your best choice for accommodation is a large hotel with room service and a pool. However, it turns out that by doing the cooking and cleaning yourself, you could make a saving of over 46%!

Let's break down the figures - hotel prices in Maui for two adults average at around an astonishing $625 per night. On Airbnb, similar stays typically go for just $426.

The benefits? You get to do what you want when you want, and sometimes with the whole place to yourselves, there's a bit more privacy for your friends and family. Plus, who needs a pool when there are world-famous beaches within walking distance?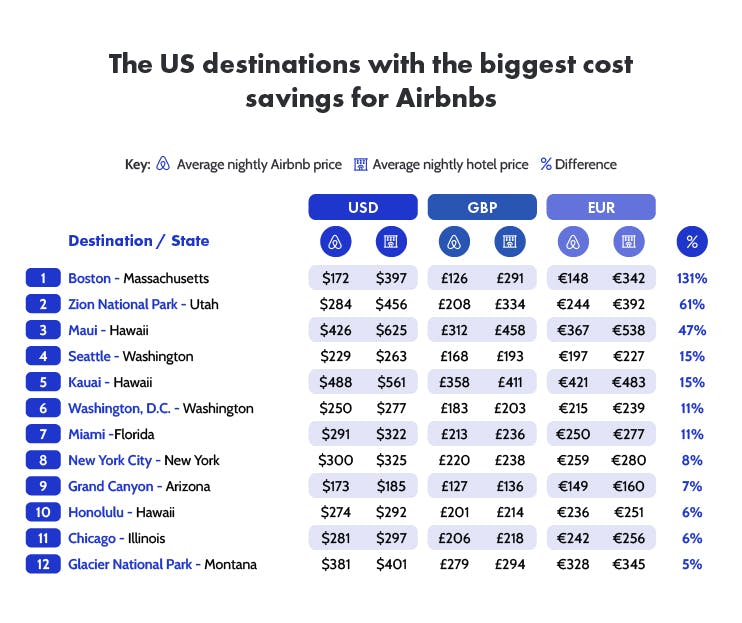 The top global locations where you can save money by staying in a hotel over Airbnb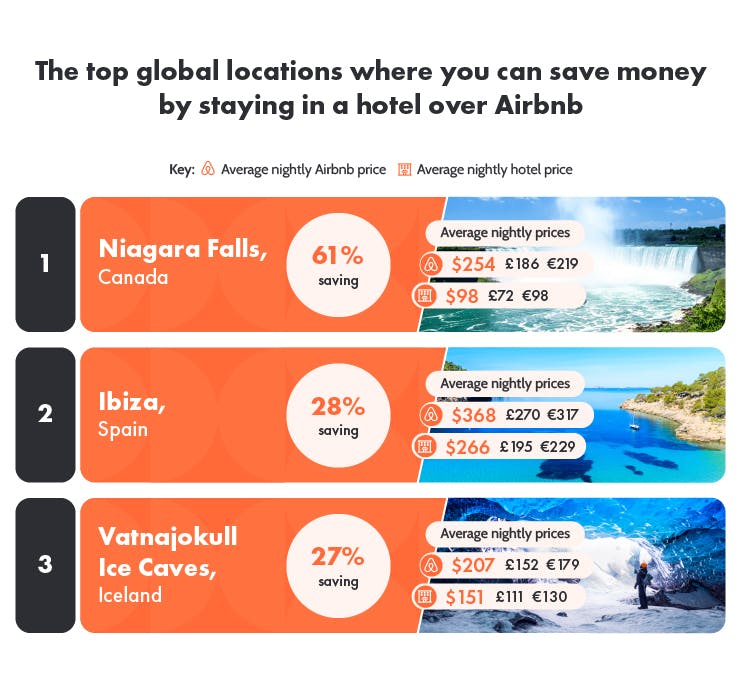 1. Niagara Falls, Canada

Percentage Saving: 61.29%

Commonly referred to as one of the wonders of the world, Niagara Falls draws in thousands of holiday-makers a year. The area boasts a scenic landscape and plenty of outdoor adventure.

Whether you're considering a family vacation or a honeymoon destination, where you stay can make a huge difference.

Out of the main 50 tourist destinations worldwide, Niagara Falls comes out on top as the best place to stay in a hotel. A double room normally costs $98, but you'd have to fork out $254 to get a similar Airbnb!

Most hotels overlook the waterfall and offer private spas with breathtaking views, so the decision is a no-brainer!

2. Ibiza, Spain

Percentage saving: 28.78%

A popular tourist hotspot due to its reputation for nightlife, Ibiza is crowned one of the top locations where a hotel is cheaper!

If you're considering a party vacation on a budget it would be wise to stay in a hotel over Airbnb.

A double room for the night would cost $266 in a hotel, but a total of $368 for a private rental! 

3. Vatnajokull Ice Caves, Iceland

Percentage saving: 26.97%

Iceland's biggest tourist destination is undoubtedly the Blue Lagoon, however, the Nordic country has a lot more to offer.

The 'Crystal Ice Cave' is on Iceland's largest glacier, and gets its name from the pure, clear, crystal-blue ice of its walls. One of the world's most beautiful natural caves, Vatnajokull is a bucket-list destination for many.

Since the cave is located on an ice cap, tourists often stay in the nearby town Höfn, where the average hotel stay costs $151. Of the Airbnbs listed by hosts in the city, the average nightly price is $207.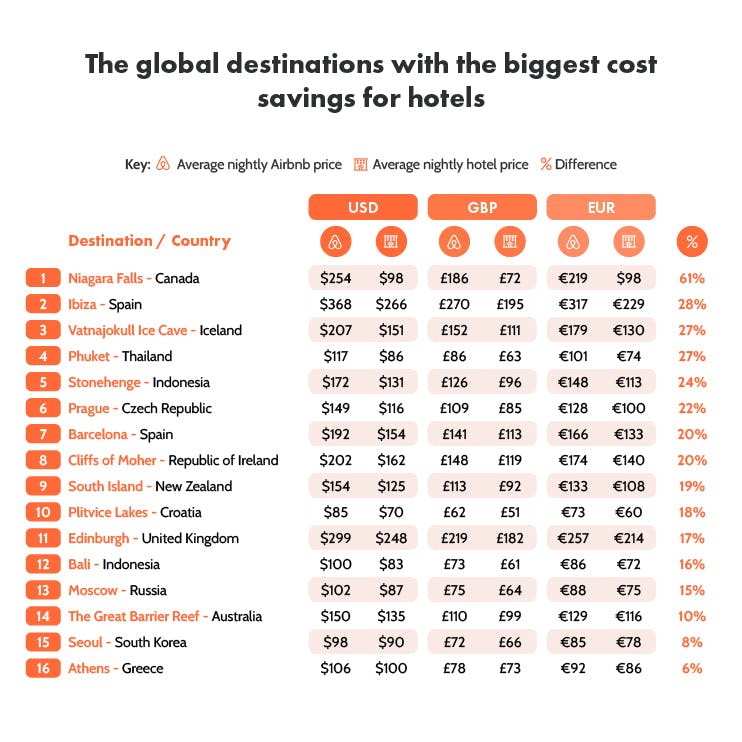 The top global locations where you can save money by staying in a Airbnb over a hotel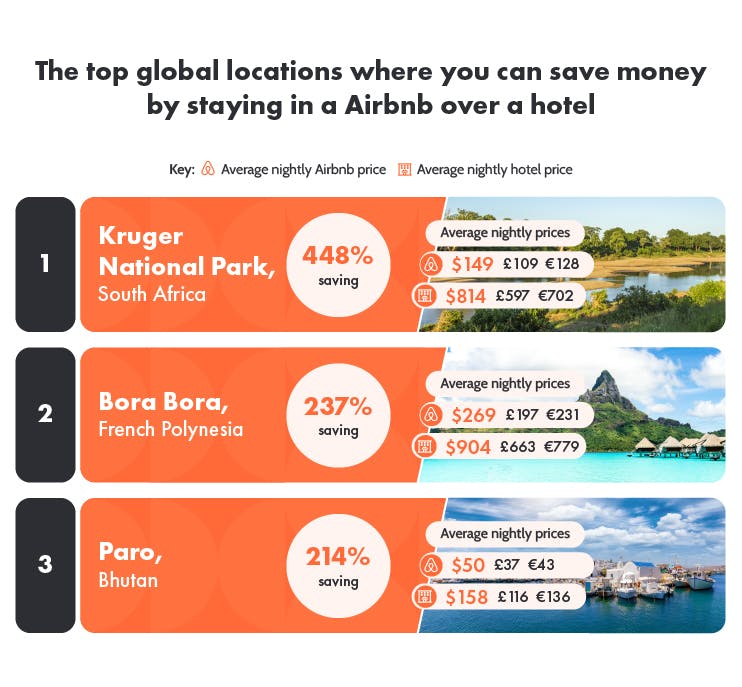 1. Kruger National Park, South Africa

Percentage Saving: 447.71%

This wild animal sanctuary is heaven for those interested in lions, leopards, and rhinos. Kruger National Park spans almost two million hectares and every inch is filled with rich and diverse wildlife.

Where you stay matters - we found the average price of a hotel room for two is $814! If that sounds steep for a place to sleep, you'll be happy to know that by choosing Airbnb, you would pay just $149.

At an over 400% price difference, it's undoubtedly an expense to consider.

2. Bora Bora, French Polynesia

Percentage Saving: 237.55%

The French Polynesian paradise is normally thought to be one of the most expensive places on the planet.

A hotspot for the rich and famous, Bora Bora conjures up images of tranquility and beautiful sunsets.

By avoiding those pricey hotels which typically charge $904 per night, you can visit the luxury vacation spot for less. Airbnb edges out as cheaper, at an average rate of $269 per night there's an over 200% saving to be made!

So which is cheaper, hotels or Airbnb? It's clear that ultimately it depends on the destination and in some places the price gap is huge. 

3. Paro, Bhutan

Percentage Saving: 213.51%

A historical town with hundreds of sacred sites, Paro is the home to Bhutan's only international airport and is the country's primary tourist spot. Temples and monasteries date back to the 14th century and are surrounded by grassy hills and mountains.

Staying in a hotel would set you back around $158, however, on Airbnb, you can rent a space for $50 on average. 

With the opportunity to stay with a host and learn about Bhutanese history and culture, Airbnb offers cost-effectiveness and authenticity.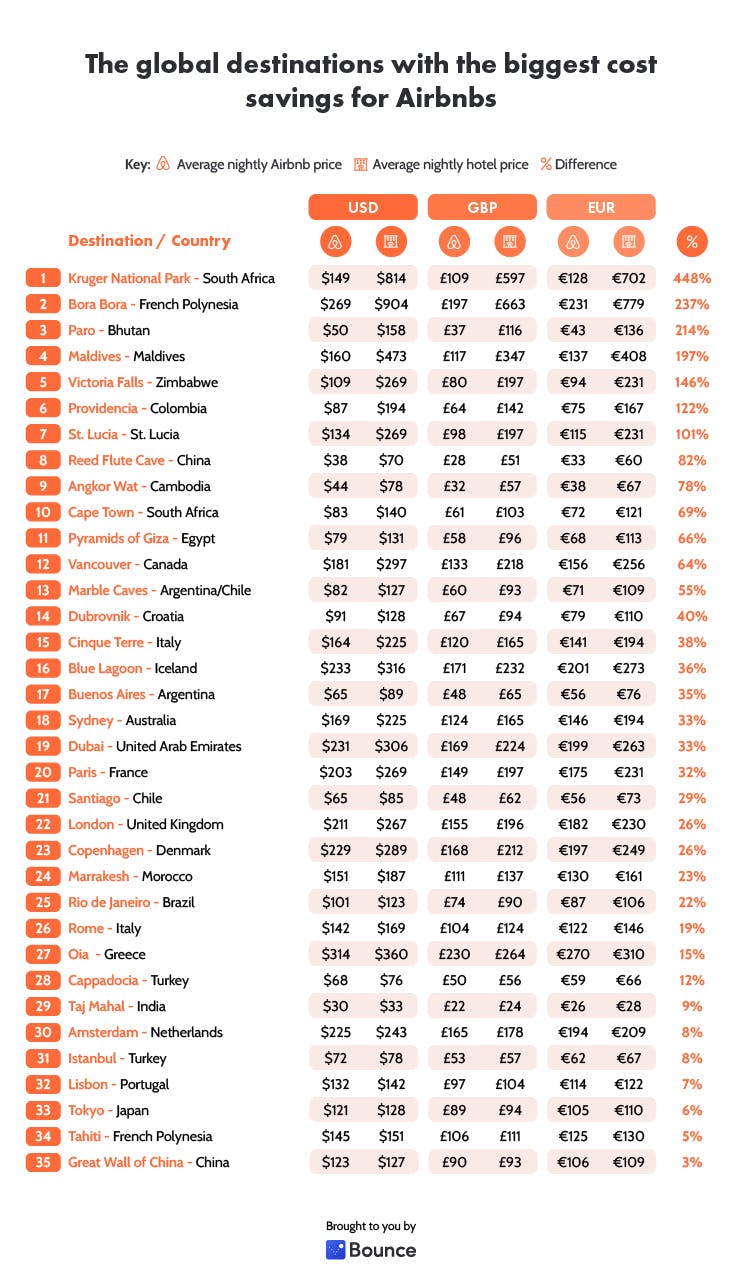 Methodology
We compiled a list of the top 30 holiday destinations in the USA, and the top 50 in the world, using online articles.

Using Kayak, we collected data on the average price of a one-night stay in a double room in a hotel for each location, based on the booking costs paid by users over 2 weeks in October. 

From Airbnb, we compiled information on the average nightly price of a room for two adult guests, during a weekend in October 2021.

We compared these figures to determine the price and percentage difference between a hotel room or Airbnb stay for each destination. This told us the best holiday destinations to stay in a hotel vs an Airbnb.

About Bounce
Bounce is building the world's largest retail chain by partnering with local business across the world and helping them to diversify their revenue streams. Bounce offers convenient and simple short-term bag and luggage storage to tourists, travelers, and city dwellers alike via the Bounce luggage storage platform & operates more than 7,000 locations in cities around the world. Cities include: