Store Your Luggage in the East Village
About the East Village
The East Village is located between the East River and the Bowery/Third Avenue, and runs from East 14th Street south to East Houston Street. Historically, it was home to large groups of German and Ukrainian immigrants; in the 1960s, it was a major hub for Beatniks, bohemians, and other countercultural groups. Though the Bowery's CBGB—the birthplace of punk music—closed its doors in 2006, the East Village still retains its "devil may care" attitude and independence of spirit.
Fun fact: The East Village and neighboring Lowest East Side have the greatest concentration of community gardens in all of the United States.
Things to Do in the East Village
There are plenty of things to do in the East Village, particularly for those wanting a laid-back, no-frills New York City experience. Bounce encourages visitors to take part in the following activities in the East Village:
Explore the bustling Saint Marks Place, home to an array of souvenir shops, karaoke bars, Asian eateries, and other ethnic food offerings
Wander the great outdoors at Tompkins Square Park or one of the many community gardens scattered throughout the neighborhood
Go on a literary pilgrimage to scope out Beat poet Allen Ginsberg's former apartments and most-visited sites
Grab a craft cocktail at trendy hotspots like the Blind Barber or Death & Co
Hobnob with downtown NYC elites at the Bowery Hotel or Standard Hotel
Eat incredible pierogies and other Ukrainian fare at Veselka
Check out Anthology Film Archives for anything and everything relating to avant-garde film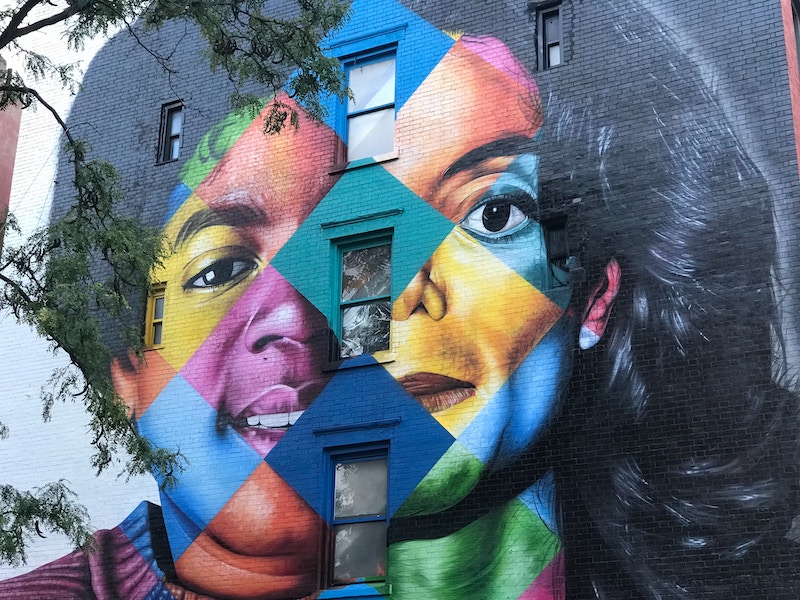 Transit Options in the East Village
MTA subway: F, 6, N, R, W, L
Luggage Storage in the East Village
Don't let the weight of your bags encumber your experience navigating through the streets of the East Village. Drop your things off with a trusted Bounce partner so you can have the freedom to experience this wonderfully eclectic and diverse community.
Choose from our select partners below for hassle-free bag and luggage storage in the East Village:
Luggage Storage on the Lower East Side
What was once a run-down neighborhood inhabited mostly by immigrants and working-class folk is now one of New York City's trendiest areas. The Lower East Side remains diverse with hints of grit, and Bounce is there to store your things so you can traverse the neighborhood with ease.
Luggage Storage in Greenwich Village
Colloquially known as simply "the Village," Greenwich Village is the heart and soul of downtown Manhattan. No trip to the area is complete without a stroll through Washington Square Park—leave your bags with Bounce for the freedom to experience all of its green glory.
Luggage Storage in the West Village
The West Village is one of Manhattan's most charming neighborhoods. To stroll its tree-lined, cobblestone streets with your hands free, you can rely on Bounce for bag and luggage storage in the West Village.
Luggage Storage in Williamsburg
A short ride across the East River from Manhattan, Williamsburg is one of the trendiest neighborhoods in NYC, with no shortage of style or attractions in the area. No trip to Brooklyn would be complete without a visit here, where Bounce has you covered for short-term luggage storage in Williamsburg.
Luggage Storage in Tribeca
Tribeca is an exclusive, tucked-away enclave removed from the hustle and bustle of much of Manhattan. Its cobblestone streets won't take well to rolling your luggage around, so we suggest dropping your bags with a Bounce partner to walk around in style and with freedom.
Luggage Storage in the Financial District
Nestled on the southern tip of Manhattan, the Financial District of course is the setting of some of the world's biggest financial institutions, as well as a host of other points of interest. If you're venturing down south, arrange a drop-off with a Bounce partner to roam the historic streets hands-free.
How It Works
Book Online
Find the location closest to you. We have locations all around the city.
Drop Off Items
Show your booking receipt and you're good to go. Secured and insured.
Enjoy the City
Go about your day without lugging around your things.
Pricing
Simple, affordable, no hidden fees
Locations all over the city
Discounts at our partners
Reviews
What people are saying about Bounce
This was so cool!!!! Great service, extremely easy to use, and totally affordable! I didn't know where I'd leave my luggage while we explored San Fran, so I easily Googled luggage storage and found this company. At first it was a little odd dropping my bag off at a chocolate store, but the lady at the register was able to immediately pull up my reservation without any problems and then she put a lock on my suitcase and gave me a card to get it back with. She pushed the bag to the back of their s
Read more
Bounce storage is so convenient. This location is inside the Chancellor Hotel at Union Square, San Francisco. Super convenient location, close to transit, attractions. Hotel staff was professional and very pleasant. Great experience with Bounce and I will definitely use again.
Convenient to the Met, which does not allow luggage at coat check. Very easy check in and check out process, with lovely people at the front!
Can't believe I haven't used this service until now. So easy & convenient. I 100% recommend.
Bounce is the best luggage storage service provider in the New York. I sent an email at midnight , and I got an email back in 10 mins. They are not only solve my issue but also provide solutions. You have to try Bounce !!
I used Bounce during a recent trip to NYC, and I was pleasantly surprised at the ease and convenience of the process. To be honest, at first, I was very apprehensive. The thought of leaving your stuff at a random store, in a place where you are not from and you don't know whether is safe or not, it doesn't matter if anyone gives it a seal of approval, its difficult to be completely comfortable with the idea. However, I was very glad to be proven wrong. The place I chose was a great, clean bodega
Read more
Fantastic experience with Bounce! Stored a bag at the Grand Central location and on my last day at the 9/11 Memorial location. Both locations had friendly, efficient staff that were helpful and made everything very easy. Such a great option if your hotel isn't ready or you don't want the hassle of a bag in the city. Great, safe option. Thanks Bounce!
Frequently Asked Questions
Is there a maximum item size?
How do I cancel my booking?
Can I store my items for a week or a month?
Where are my items stored?
Do you offer hourly storage?
Do you have a location near X?
Are large bags more expensive?