About the East Village
Originally the home of the indigenous Lenape people, Manhattan's East Village has undergone multiple drastic changes over the centuries to become what it is today. East Village is one of New York's most colorful neighborhoods, due in large part to the efforts of groups like the Greenwich Village Society for Historic Preservation - or the GVSHP for short. East Village's landmarks reflect the neighborhood's culture, history, and spirit. The locale has many festivals, theaters, museums, and amazing parks, and is home to tons of artists, actors and actresses, and political activists.

Fun fact: The East Village and neighboring Lowest East Side have the greatest concentration of community gardens in all of the United States.

Things to do in the East Village 
East Village is a cultural hub that's unlike any other - not only in New York but around the entire globe. You'll find plenty of concerts to vibe to, paintings to admire, and museums to explore. Many of America's East Coast neighborhoods are also famous for their great tasting food, and East Village is no different. Bounce recommends that you look into the following activities during your visit. 

Grab a bite to eat and a cup of Joe at Black Seed Bagels

Find your center at Yoga to the People, a free donation-funded yoga studio

Explore Chicago's Chinese American Museum, in the heart of Chinatown

Broaden your horizons at the Mast Books bookstore

Get your spirits lifted at the Nuyorican Poets Cafe

Visit the Ukrainian Museum and learn about this East Slavic culture's expansive history

Embark on one of Manhattan's epic food tours

Mosey through East Village's breathtaking Mosaic Trail, and see one of a kind art pieces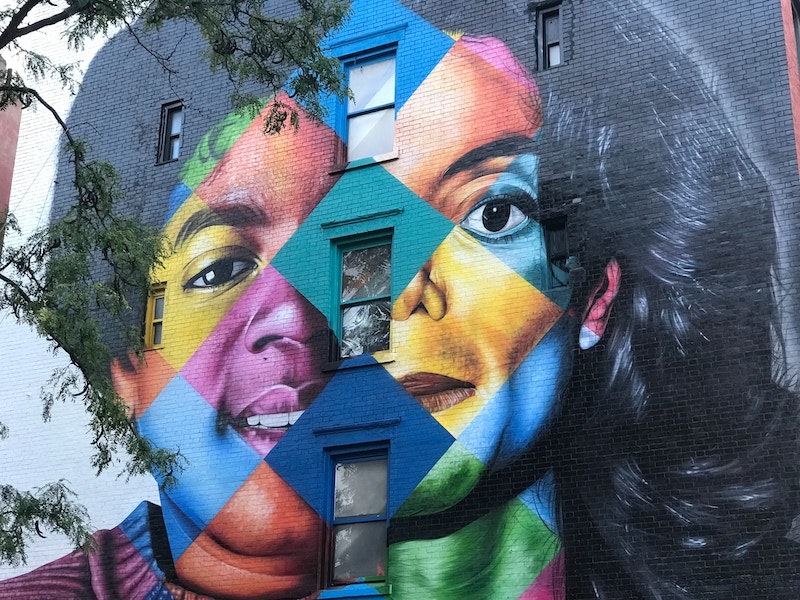 Transit Options in the East Village
Metro Bus

Train: Line Route PATH

MTA Subway: 5, 6, F, R
Luggage Storage in the East Village
East Village is approximately 492 acres in size. Most New York communities are somewhat packed and condensed, meaning that you'll be sharing the streets with hundreds of other pedestrians at any given time. Traveling through East Village can be tons of fun - if you properly prepare for the trip, that is. Drop off your bags at a trusted Bounce partner to explore this diverse community.

Luggage Storage Options near the East Village 
The Museum of the American Gangster: At this unique place, you'll find a museum that chronicles New York's intricate relationship with organized crime. Check your luggage at a Bounce location nearby before heading over.

Tompkins Square Park: You'll find this historic park nestled between 7th and 10th street. Bring plenty of bird feed, and leave the rest of your gear with Bounce.

La Mama E.T.C: This boundary-pushing theater can be found on 74A E. 4th Street. Excessive baggage isn't permitted at La Mama, so you'd best Bounce your things away before you visit.

Benjamin's Steakhouse: You can find this insanely popular restaurant on 52 E 41st Street. Most American restaurants, including Benjamin's, won't let you enter with tons of luggage. Bounce will take care of your things while you wine and dine.

Tree Bistro: If you're in the mood for French cuisine while you're visiting East Village, store your luggage with Bounce, and then stop by for a bite. 

Bateaux New York Dinner Cruise: For about $200 per person, you can experience a delectable dinner and an awe-inspiring cruise through the Hudson River all in one package. Leave your luggage with Bounce, then set sail.

Greenwich Walking and Food Tasting Tour: For about $70, you can tour one of East Village's sister cities. For about $6 per day, Bounce can hang onto your luggage while you explore.

St. Mark's Church-In-The-Bowery: Check your gear with Bounce, journey over to 131 East 10th Street, and marvel at one of Manhattan's most famous parishes.