Store Your Luggage on the Upper West Side
About the Upper West Side
The Upper West Side spans from West 59th Street through West 110th streets, in between the Hudson River and Central Park. While locals largely commute to work downtown, residents and visitors alike enjoy the cultural and intellectual currents that abound in the area. Popular hubs on the UWS include Columbus Circle, Lincoln Square, and Columbia University.
Fun fact: Located on Central Park West, the famous residential Dakota building is supposedly haunted by a handful of ghosts, including the ghost of its most famous former resident, John Lennon.
Things to Do on the Upper West Side
Though it might be considered a sleepy residential neighborhood by some, don't let the neighborhood's family-friendly ambience mislead you. There's a variety of incredible things to see and do on the Upper West Side, including but not limited to the following:
Honor the memory of John Lennon at Strawberry Fields at the West 72nd Street entrance of Central Park
Navigate your way through the diverse exhibits at the Museum of Natural History such as the Hall of Ornithischian Dinosaurs and the Hayden Planetarium
Get your cultural fix at Lincoln Center, home to the likes of the New York Philharmonic, New York City Ballet, Metropolitan Opera, and the biannual New York Fashion Week
Enjoy a concert or stand-up comedy show at the intimate Beacon Theatre
Treat yourself to melts-in-your-mouth sweets from Levain Bakery and Momofuku Milk Bar
Dine on world-class French fare at Jean-Georges, or keep it casual with a bagel and lox at the UWS staple Barney Greengrass
Take your little ones to the Children's Museum of Manhattan for interactive exhibitions, workshops, and events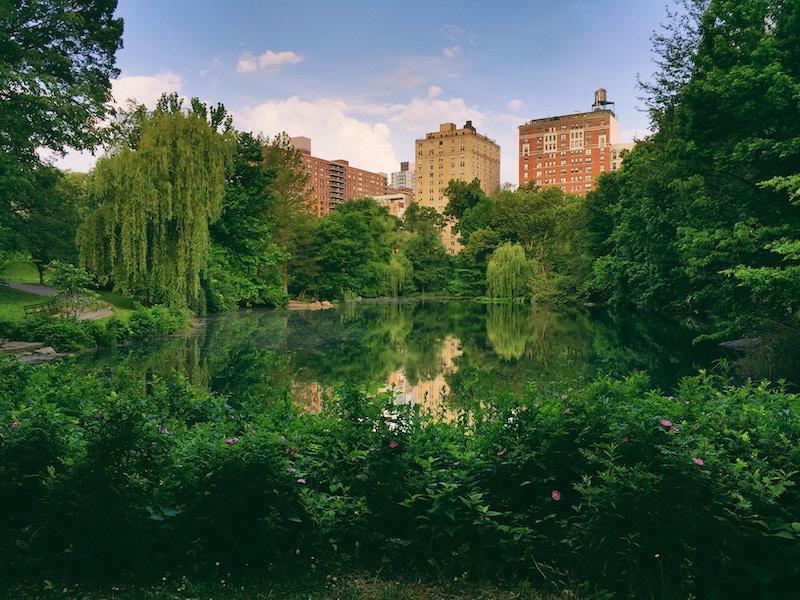 Transit Options on the Upper West Side
MTA subway: 1, 2, 3, A, C, B, D
Luggage Storage on the Upper West Side
Is the greenery of Central Park or Riverside Park calling your name? Are you landing in New York City the day of a show at Lincoln Center but don't have time to drop off your bags at your hotel? Leave it to Bounce to take care of your luggage and bag storage needs on the Upper West Side.
Choose from our select partners below for hassle-free bag and luggage storage near Central Park on the Upper West Side:
Luggage Storage near Penn Station
Penn Station is the busiest railroad station in the Western Hemisphere, serving over 600,000 visitors and commuters each day. While luggage storage at Penn Station isn't available, Bounce has partnered with businesses in the area to offer you safe and reliable luggage storage solutions only minutes away.
Luggage Storage near Port Authority
The Port Authority Bus Terminal (PABT) is the largest bus terminal in the country, serving New Jersey commuters and riders on longer intercity routes. If you're coming into New York City from this major hub with bags in tow, Bounce will be happy to offer luggage storage near Port Authority.
Luggage Storage near Newark Airport (EWR)
Newark Airport is one of the three major airports servicing flight passengers to and from the New York metropolitan area. Visitors arriving here can rely on Bounce for luggage storage in New York once they make it into the city.
Luggage Storage on the Upper East Side
The Upper East Side (UES) is home to some of the city's wealthiest residents, high-end shopping, and best museums. Whether you want to enjoy the finer things in life in this exclusive enclave or simply seek to stroll through neighboring Central Park, Bounce can take care of your bag and luggage storage on the Upper East Side.
Luggage Storage in Times Square
Times Square is one of the busiest and most visited pedestrian areas in the world. Since it's at the top of nearly every tourist's sightseeing list for New York City, Bounce has made sure to partner with local businesses for luggage storage near Times Square.
Luggage Storage near Madison Square Garden
Madison Square Garden is an iconic arena known for world-class sports, concerts, and entertainment. MSG doesn't offer coat- and bag-check services, so store your things with Bounce while you enjoy festivities at The Garden.
Luggage Storage in Chelsea
Chelsea is the leading district in Manhattan for art, boasting over 200 world-renowned and up-and-coming galleries. From gallery hopping to walking along the High Line, you'll want to have the freedom to experience all the neighborhood has to offer—which is why Bounce extends plenty of options for luggage storage in Chelsea.
Luggage Storage in the West Village
The West Village is one of Manhattan's most charming neighborhoods. To stroll its tree-lined, cobblestone streets with your hands free, you can rely on Bounce for bag and luggage storage in the West Village.
How It Works
Book Online
Find the location closest to you. We have locations all around the city.
Drop Off Items
Show your booking receipt and you're good to go. Secured and insured.
Enjoy the City
Go about your day without lugging around your things.
Pricing
Simple, affordable, no hidden fees
Locations all over the city
Discounts at our partners
Reviews
What people are saying about Bounce
This was so cool!!!! Great service, extremely easy to use, and totally affordable! I didn't know where I'd leave my luggage while we explored San Fran, so I easily Googled luggage storage and found this company. At first it was a little odd dropping my bag off at a chocolate store, but the lady at the register was able to immediately pull up my reservation without any problems and then she put a lock on my suitcase and gave me a card to get it back with. She pushed the bag to the back of their s
Read more
Bounce storage is so convenient. This location is inside the Chancellor Hotel at Union Square, San Francisco. Super convenient location, close to transit, attractions. Hotel staff was professional and very pleasant. Great experience with Bounce and I will definitely use again.
Convenient to the Met, which does not allow luggage at coat check. Very easy check in and check out process, with lovely people at the front!
Can't believe I haven't used this service until now. So easy & convenient. I 100% recommend.
Bounce is the best luggage storage service provider in the New York. I sent an email at midnight , and I got an email back in 10 mins. They are not only solve my issue but also provide solutions. You have to try Bounce !!
I used Bounce during a recent trip to NYC, and I was pleasantly surprised at the ease and convenience of the process. To be honest, at first, I was very apprehensive. The thought of leaving your stuff at a random store, in a place where you are not from and you don't know whether is safe or not, it doesn't matter if anyone gives it a seal of approval, its difficult to be completely comfortable with the idea. However, I was very glad to be proven wrong. The place I chose was a great, clean bodega
Read more
Fantastic experience with Bounce! Stored a bag at the Grand Central location and on my last day at the 9/11 Memorial location. Both locations had friendly, efficient staff that were helpful and made everything very easy. Such a great option if your hotel isn't ready or you don't want the hassle of a bag in the city. Great, safe option. Thanks Bounce!
Frequently Asked Questions
Is there a maximum item size?
How do I cancel my booking?
Can I store my items for a week or a month?
Where are my items stored?
Do you offer hourly storage?
Do you have a location near X?
Are large bags more expensive?