Store Your Luggage in the Financial District
About the Financial District
The Financial District (FiDi) spans from West Street to the East River sideways and Frankfort Street to State Street from north to south. While the area is famous for being the leading financial center of both the United States and the world, there are other off-the-clock attractions for locals and tourists alike. Visitors to FiDi enjoy its picturesque cobblestone streets, fresh breezes off the water, easy access to public transportation, and attractions for shopping, dining, history, and culture.
Fun fact: George Washington was inaugurated at Federal Hall on Wall Street on April 30, 1789.
Things to Do in the Financial District
The Financial District is certainly busiest on weekdays from 9-5, and the pace becomes considerably slower on nights and weekends. However, it still attracts a considerable amount of visitors thanks to the following local experiences and attractions in FiDi:
Take in incredible panoramic views of Manhattan at One World Observatory on the 100th floor of the Freedom Tower, and honor victims and heroes tragically lost at the 9/11 Museum & Memorial
Snap a photo with the Charging Bull sculpture at Broadway and Morris streets, and take in the hustle and bustle of Manhattan's biggest financial power players
Walk along the Brooklyn Bridge for a quintessential NYC experience
Hop aboard a water taxi for a tour to or around the Statue of Liberty and Lower Manhattan
Peer at some of Manhattan's oldest architecture and enjoy shopping, dining, nightlife, and entertainment options at the South Street Seaport
Visit the Museum of Jewish Heritage or the National Museum of the American Indian for insight into the history of the respective cultural groups
Shop, eat, skate, and more at the buzzing yet luxurious Brookfield Place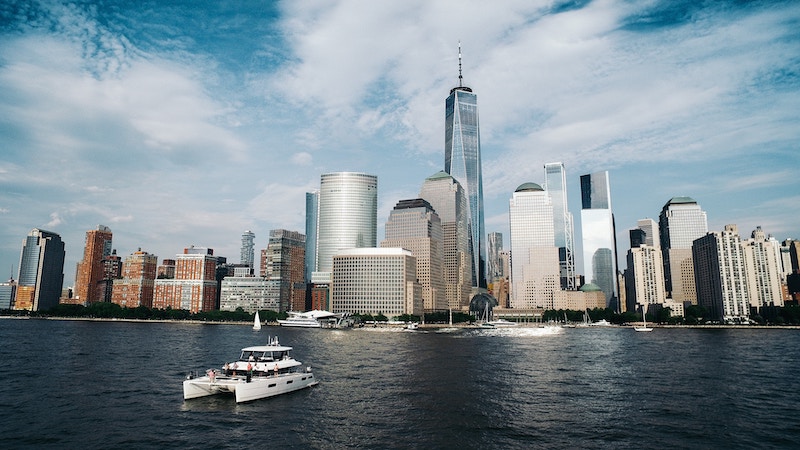 Transit Options in the Financial District
MTA subway: 4, 5, 6, 1, 2, 3, N, R, E, J
NYC Ferry: Wall Street/Pier 11
Luggage Storage in the Financial District
Maybe you're visiting a friend for lunch, hopping aboard a water taxi for a tour, or taking in the past, present, and future of the World Trade Center. Either way, Bounce knows that you don't want to be burdened by your bags.
Choose from our select partners below for hassle-free bag and luggage storage in the Financial District:
Luggage Storage in Tribeca
Tribeca is an exclusive, tucked-away enclave removed from the hustle and bustle of much of Manhattan. Its cobblestone streets won't take well to rolling your luggage around, so we suggest dropping your bags with a Bounce partner to walk around in style and with freedom.
Luggage Storage in Williamsburg
A short ride across the East River from Manhattan, Williamsburg is one of the trendiest neighborhoods in NYC, with no shortage of style or attractions in the area. No trip to Brooklyn would be complete without a visit here, where Bounce has you covered for short-term luggage storage in Williamsburg.
Luggage Storage on the Lower East Side
What was once a run-down neighborhood inhabited mostly by immigrants and working-class folk is now one of New York City's trendiest areas. The Lower East Side remains diverse with hints of grit, and Bounce is there to store your things so you can traverse the neighborhood with ease.
Luggage Storage in the East Village
For decades, the East Village has been known as a diverse, high-energy, and eclectic neighborhood full of grit and adventure. Visitors to the East Village can drop their things off with a Bounce partner to fully enjoy its countless eateries, dive bars, and vintage shops.
Luggage Storage in Chelsea
Chelsea is the leading district in Manhattan for art, boasting over 200 world-renowned and up-and-coming galleries. From gallery hopping to walking along the High Line, you'll want to have the freedom to experience all the neighborhood has to offer—which is why Bounce extends plenty of options for luggage storage in Chelsea.
Luggage Storage in Times Square
Times Square is one of the busiest and most visited pedestrian areas in the world. Since it's at the top of nearly every tourist's sightseeing list for New York City, Bounce has made sure to partner with local businesses for luggage storage near Times Square.
How It Works
Book Online
Find the location closest to you. We have locations all around the city.
Drop Off Items
Show your booking receipt and you're good to go. Secured and insured.
Enjoy the City
Go about your day without lugging around your things.
Pricing
Simple, affordable, no hidden fees
Locations all over the city
Discounts at our partners
Reviews
What people are saying about Bounce
This was so cool!!!! Great service, extremely easy to use, and totally affordable! I didn't know where I'd leave my luggage while we explored San Fran, so I easily Googled luggage storage and found this company. At first it was a little odd dropping my bag off at a chocolate store, but the lady at the register was able to immediately pull up my reservation without any problems and then she put a lock on my suitcase and gave me a card to get it back with. She pushed the bag to the back of their s
Read more
Bounce storage is so convenient. This location is inside the Chancellor Hotel at Union Square, San Francisco. Super convenient location, close to transit, attractions. Hotel staff was professional and very pleasant. Great experience with Bounce and I will definitely use again.
Convenient to the Met, which does not allow luggage at coat check. Very easy check in and check out process, with lovely people at the front!
Can't believe I haven't used this service until now. So easy & convenient. I 100% recommend.
Bounce is the best luggage storage service provider in the New York. I sent an email at midnight , and I got an email back in 10 mins. They are not only solve my issue but also provide solutions. You have to try Bounce !!
I used Bounce during a recent trip to NYC, and I was pleasantly surprised at the ease and convenience of the process. To be honest, at first, I was very apprehensive. The thought of leaving your stuff at a random store, in a place where you are not from and you don't know whether is safe or not, it doesn't matter if anyone gives it a seal of approval, its difficult to be completely comfortable with the idea. However, I was very glad to be proven wrong. The place I chose was a great, clean bodega
Read more
Fantastic experience with Bounce! Stored a bag at the Grand Central location and on my last day at the 9/11 Memorial location. Both locations had friendly, efficient staff that were helpful and made everything very easy. Such a great option if your hotel isn't ready or you don't want the hassle of a bag in the city. Great, safe option. Thanks Bounce!
Frequently Asked Questions
Is there a maximum item size?
How do I cancel my booking?
Can I store my items for a week or a month?
Where are my items stored?
Do you offer hourly storage?
Do you have a location near X?
Are large bags more expensive?