Store Your Luggage near Port Authority
About Port Authority
Port Authority is located on Eighth Avenue between West 40th and 42nd streets, conveniently situated between the Lincoln Tunnel and Times Square. It includes 223 departure gates and services approximately 225,000 riders daily, making it the busiest bus terminal in the world by volume of traffic.
Fun fact: According to a 2012 report, although buses only accounted for only 11.4% of vehicles on the Lincoln Tunnel heading towards Port Authority, they carried 73.4% of all the tunnel's travelers.
Things to Do near Port Authority
Given Port Authority's strategic location next to New York City tourist favorite Times Square, there's no shortage of things to do in the area. Here's a handful:
Check out the statue of bus driver Ralph Kramden (Jackie Gleason) from the 1950s sitcom The Honeymooners within the bus terminal
Bowl a strike at Frames Bowling Lounge on the Ninth Avenue side of the terminal
Take in the sights and sounds of Times Square with its multimedia billboards and endless parade of flashing lights
Visit the TKTS booth on Seventh Avenue for discounted tickets to day-of Broadway and other theater shows
Buy tickets from Gray Line New York for a sightseeing tour of the Big Apple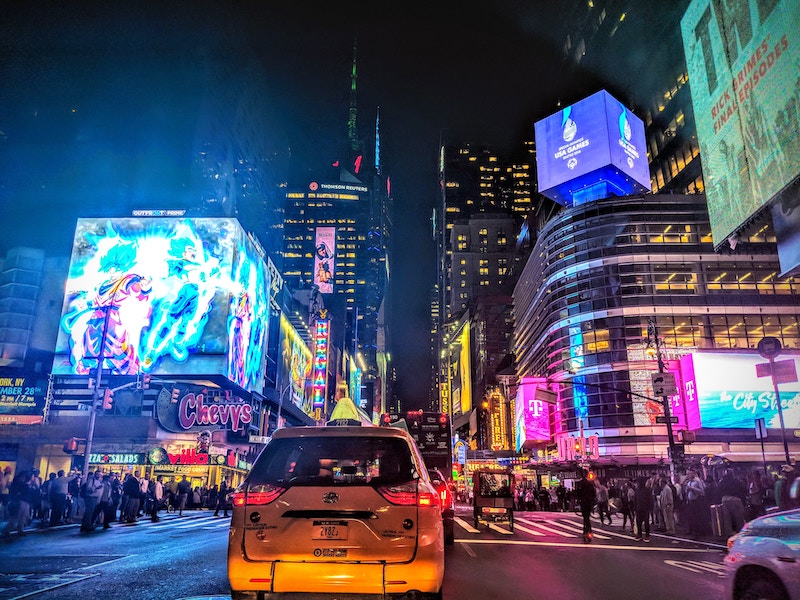 Transit Options at Port Authority
Academy
Adirondack Trailways
C&J
Coach USA (Community, Leisure Lines, Newark Airport Express, Rockland Red and Tan, Shortline, Suburban)
Decamp
Fullington Trailways
Greyhound
Lakeland
Martz Trailways
Megabus
NJ Transit
Peter Pan (Bonanza)
Trans-Bridge Lines
MTA subway: 1, 2, 3, A, C, E, N, Q, R, W, 7, S
Luggage Storage near Port Authority
The bad news: Port Authority Bus Terminal doesn't offer storage services for your bags. The good news: Bounce has partnered with businesses in the area to provide you with convenient solutions for luggage storage near Port Authority.
Choose from our select partners below for hassle-free bag and luggage storage near Port Authority:
Luggage Storage in Times Square
Times Square is one of the busiest and most visited pedestrian areas in the world. Since it's at the top of nearly every tourist's sightseeing list for New York City, Bounce has made sure to partner with local businesses for luggage storage near Times Square.
Luggage Storage near Penn Station
Penn Station is the busiest railroad station in the Western Hemisphere, serving over 600,000 visitors and commuters each day. While luggage storage at Penn Station isn't available, Bounce has partnered with businesses in the area to offer you safe and reliable luggage storage solutions only minutes away.
Luggage Storage near Grand Central
Also referred to as Grand Central Station or Grand Central Terminal, this transportation hub doubles as a renowned New York City landmark. While Grand Central has maintained a sense of romanticism and elegance for upwards of a century, it unfortunately doesn't offer luggage storage—which is where Bounce comes in.
Luggage Storage near Newark Airport (EWR)
Newark Airport is one of the three major airports servicing flight passengers to and from the New York metropolitan area. Visitors arriving here can rely on Bounce for luggage storage in New York once they make it into the city.
Luggage Storage near JFK Airport
JFK Airport is the busiest of the Tri-State Area's three major airports, with nonstop and direct flights to six continents across nearly 100 air carriers. While luggage storage at JFK isn't offered to travelers, you can count on Bounce to store your bags at dozens of locations across New York City.
Luggage Storage near LaGuardia Airport (LGA)
LaGuardia Airport is the smallest of New York City's three major airports, and primarily serves domestic travelers. Although luggage storage at LaGuardia isn't available, Bounce has you covered for short-term bag storage throughout many neighborhoods and locations in NYC.
Luggage Storage near Madison Square Garden
Madison Square Garden is an iconic arena known for world-class sports, concerts, and entertainment. MSG doesn't offer coat- and bag-check services, so store your things with Bounce while you enjoy festivities at The Garden.
Luggage Storage on the Upper West Side
The Upper West Side (UWS) offers a great mix of residential areas, cultural institutions, and fine and casual dining. If you want to visit the neighboring Central Park free from the burden of your bags, visit one of Bounce's partners for luggage storage on the Upper West Side.
Luggage Storage in Chelsea
Chelsea is the leading district in Manhattan for art, boasting over 200 world-renowned and up-and-coming galleries. From gallery hopping to walking along the High Line, you'll want to have the freedom to experience all the neighborhood has to offer—which is why Bounce extends plenty of options for luggage storage in Chelsea.
How It Works
Book Online
Find the location closest to you. We have locations all around the city.
Drop Off Items
Show your booking receipt and you're good to go. Secured and insured.
Enjoy the City
Go about your day without lugging around your things.
Pricing
Simple, affordable, no hidden fees
Locations all over the city
Discounts at our partners
Reviews
What people are saying about Bounce
This was so cool!!!! Great service, extremely easy to use, and totally affordable! I didn't know where I'd leave my luggage while we explored San Fran, so I easily Googled luggage storage and found this company. At first it was a little odd dropping my bag off at a chocolate store, but the lady at the register was able to immediately pull up my reservation without any problems and then she put a lock on my suitcase and gave me a card to get it back with. She pushed the bag to the back of their s
Read more
Bounce storage is so convenient. This location is inside the Chancellor Hotel at Union Square, San Francisco. Super convenient location, close to transit, attractions. Hotel staff was professional and very pleasant. Great experience with Bounce and I will definitely use again.
Convenient to the Met, which does not allow luggage at coat check. Very easy check in and check out process, with lovely people at the front!
Can't believe I haven't used this service until now. So easy & convenient. I 100% recommend.
Bounce is the best luggage storage service provider in the New York. I sent an email at midnight , and I got an email back in 10 mins. They are not only solve my issue but also provide solutions. You have to try Bounce !!
I used Bounce during a recent trip to NYC, and I was pleasantly surprised at the ease and convenience of the process. To be honest, at first, I was very apprehensive. The thought of leaving your stuff at a random store, in a place where you are not from and you don't know whether is safe or not, it doesn't matter if anyone gives it a seal of approval, its difficult to be completely comfortable with the idea. However, I was very glad to be proven wrong. The place I chose was a great, clean bodega
Read more
Fantastic experience with Bounce! Stored a bag at the Grand Central location and on my last day at the 9/11 Memorial location. Both locations had friendly, efficient staff that were helpful and made everything very easy. Such a great option if your hotel isn't ready or you don't want the hassle of a bag in the city. Great, safe option. Thanks Bounce!
Frequently Asked Questions
Is there a maximum item size?
How do I cancel my booking?
Can I store my items for a week or a month?
Where are my items stored?
Do you offer hourly storage?
Do you have a location near X?
Are large bags more expensive?