About Port Authority
Port Authority is located on Eighth Avenue between West 40th and 42nd streets, conveniently situated between the Lincoln Tunnel and Times Square. It includes 223 departure gates and services approximately 225,000 riders daily, making it the busiest bus terminal in the world by volume of traffic.

Fun fact: According to a 2012 report, although buses only accounted for only 11.4% of vehicles on the Lincoln Tunnel heading towards Port Authority, they carried 73.4% of all the tunnel's travelers.

Things to Do near Port Authority
Given Port Authority's strategic location next to New York City tourist favorite Times Square, there's no shortage of things to do in the area. Here's a handful:

Check out the statue of bus driver Ralph Kramden (Jackie Gleason) from the 1950s sitcom The Honeymooners within the bus terminal

Bowl a strike at Frames Bowling Lounge on the Ninth Avenue side of the terminal

Take in the sights and sounds of Times Square with its multimedia billboards and endless parade of flashing lights

Visit the TKTS booth on Seventh Avenue for discounted tickets to day-of Broadway and other theater shows

Buy tickets from Gray Line New York for a sightseeing tour of the Big Apple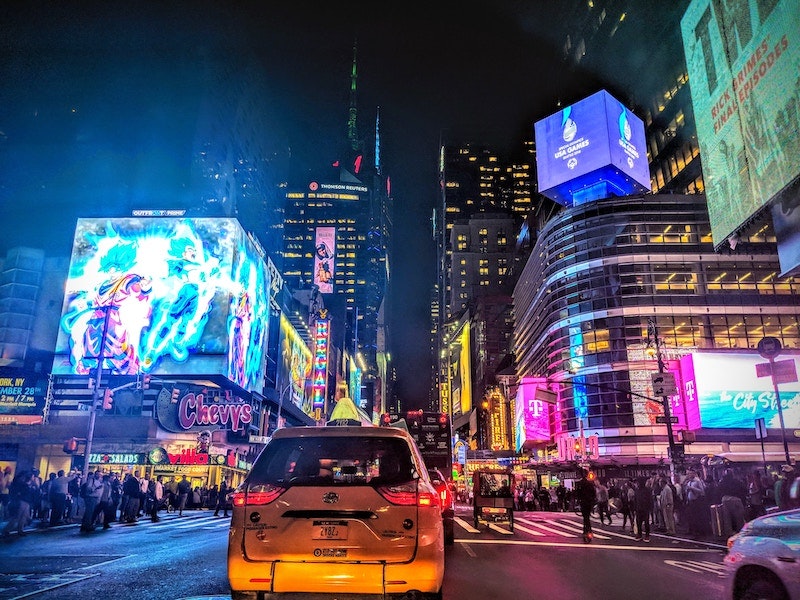 Transit Options at Port Authority
Academy

Adirondack Trailways

C&J

Coach USA (Community, Leisure Lines, Newark Airport Express, Rockland Red and Tan, Shortline, Suburban)

Decamp

Fullington Trailways

Greyhound

Lakeland

Martz Trailways

Megabus

NJ Transit

Peter Pan (Bonanza)

Trans-Bridge Lines

MTA subway: 1, 2, 3, A, C, E, N, Q, R, W, 7, S
Luggage Storage near Port Authority
The bad news: Port Authority Bus Terminal doesn't offer storage services for your bags. The good news: Bounce has partnered with businesses in the area to provide you with convenient solutions for luggage storage near Port Authority.

Choose from our select partners for hassle-free bag and luggage storage near Port Authority -- simply search the address you need storage around in the box at the top of this page and we'll show you all your options.

Luggage Storage Options near Port Authority   
New York Catacombs by Candlelight: Explore the fascinating catacombs of New York on this candlelit tour. As this requires a lot of walking and hands to hold the candle, leave any baggage with a Bounce nearby to make things easier. 

Jersey Boys on Broadway: If you have time and would like to check out a Broadway show, this is a great option to consider. Head on over and get your tickets to see a show that is full of classic hits! As seating will be tight, feel free to locate Bounce and leave any bigger bags there. 

The National 9/11 Memorial & Museum: Visit this museum if you have a bit of time to kill and would like to get more education on the 9/11 tragedy. This nonprofit museum honors those who fell during this time and keeps their memory alive. It's definitely a must-see.

Statue of Liberty: As one of the shining stars of New York, no visit is complete without getting up close. Leave your stuff with a Bounce partner nearby and see Lady Liberty up close.

One World Observatory: For those who want to take in as much of New York as possible, this observatory is definitely a place to visit. Take in all the glory of the skyline and surrounding area.

Central Park: Get some fresh air in the lovely Central Park area. With lots of ground to cover, leaving bags with Bounce can make the experience all the more relaxing. 

Piccola Cucina Osteria: For great Italian and Mediterranean food, this restaurant is a must-visit. Head on over to Spring Street for a feast. Locate a Bounce partner nearby to leave your bags in a secure location while enjoying a great meal.

Nish Nush: Visit this restaurant if you are looking for tasty and affordable food. With fantastic Middle Eastern options, the selection is varied and delicious! Drop off bags with Bounce so that you can free up your hands for easy eating.