Luggage Storage Penn Station
Instantly reserve the best locations near Penn Station to store your luggage for just $5.90/ day
$10,000 insurance included

Security seals provided for max safekeeping

Book instantly online, free to cancel
How it works
Search Locations

Select the most convenient location for your needs

Book online

Instantly reserve your space in a few clicks

Drop off items

Head to the store and show your reservation

Enjoy the city

Go about your day without lugging around your things
Penn Station Luggage Storage Guide 2021
Are you wondering, "Where can I store my luggage near Penn Station?" Perhaps you just arrived in New York and need a place to store your bags near Penn Station before you check into your hotel or AirBnB -- or maybe you just checked out and don't want to drag your bags around with you for the rest of the day.

Perhaps, you're planning on shopping at Chelsea Market, Macy's, or Union Square Park and need a place to store your bags. Or, you're planning on sightseeing in the Penn Station area at Times Square, Empire State Building, or Rockefeller Center and don't want to be burdened by your baggage.

If you wish to catch a game at Madison Square Garden or visit local museums like MoMA (Museum Of Modern Art) you may find that luggage is not allowed in these venues.

Don't worry, there are plenty of options for luggage storage near Penn Station!


Luggage storage nearby Penn Station with Bounce
Bounce is one of the largest luggage storage networks in New York with multiple locations near Penn Station.

Featured in The Boston Globe, Techcrunch and Forbes, Bounce is present in more than 100 cities. We partner with local hotels and shops to open up space for you to drop off your bags in essentially any major neighborhood.

Our team vets each location and provides all the security measures including insurance, security seals, and well-trained staff.

Bounce is the #1-rated bag storage network with thousands of 5-star reviews. Many of our shops are open for luggage storage 24/7 but this varies by location… we strategically open new spots so you can find the closest location to temporarily store your bags. Our prices in the Penn Station area start at just $5.90 per 24h/bag.

Book through our website or mobile app (required) so that we can cover you with insurance, space availability, and our 24/7 customer support. We love to travel as much as you so we make it as easy as possible! There are no size limits for suitcases or backpacks stored with Bounce. For less than a cup of coffee per bag, you can enjoy your entire day without dragging your bags with you!

Here are some ideas for making the most of your time in the Penn Station area now that you are free from your baggage. Some notable places to relax before a flight are The High Line, Bryant Park, and Washington Square Park. You can also go for a hike around U Thant Island, Shooters Island, and Marsh. And if you're looking for a night on the town, check out Hard Rock Cafe, 230 Fifth Rooftop Bar, and Top of the strand.


Why is Bounce the best luggage storage provider in the Penn Station area?
✅Multiple locations near Penn Station
✅$10,000 Bounce Guarantee on each booking to protect your belongings
✅Vetted store locations to ensure trust and safety
✅2 minute booking process online or via mobile app, then just walk in and check your bags in
✅Thousands of 5 star reviews, hundreds of thousands of bags stored
How do I store luggage near Penn Station with Bounce?
You can find the closest luggage storage location to Penn Station really easily. Simply select a location here. Find the shop that meets your preferences in terms of location & hours. Once you've chosen a location, you can book in under 2 minutes. We'll ask for payment details upfront, but you can cancel your reservation if you end up not needing it.

Space does fill up so booking before you go there is required, but you can show up right away. With your booking confirmation in hand, we'll give you the exact details and directions to the shop. Once there, all you have to do is show your booking confirmation and we'll tag and check in your bags.

You're now free to enjoy Penn Station and New York without your things!


About Penn Station
Located in bustling Midtown Manhattan spanning West 30th and 34th streets between Seventh and Eighth avenues, Penn Station is New York City's primary railroad hub. It's conveniently located below Madison Square Garden, perhaps the world's most famous indoor arena for sports, concerts, and major events. Penn Station is also in close proximity to the iconic Empire State Building and Herald Square.

Fun Fact: Penn Station services nearly 650,000 people each day, which is more traffic than that of all three major NYC airports combined.

Things to Do near Penn Station
Penn Station and its surrounding area offer many different reasons to bring you to town. Here's a select few:

Commute to your 9-5 from New Jersey or New York state

Rock out at a Madison Square Garden concert by the likes of Billy Joel, Bruce Springsteen, U2, or Phish—all of whom have performed at MSG dozens of times

Cheer on the New York Knicks (NBA) or New York Rangers (NHL) from autumn through spring

Ascend to the Empire State Building Observatory for unbeatable views of the NYC skyline at the 102nd floor

Shop at Macy's Herald Square, the largest department store in the United States

Indulge in delicious Korean barbeque in Koreatown (West 32nd Street & Sixth Avenue/Broadway)

Head southwest to walk along the High Line, a former elevated freight rail turned public park that traverses the trendy neighborhoods of Chelsea and the Meatpacking District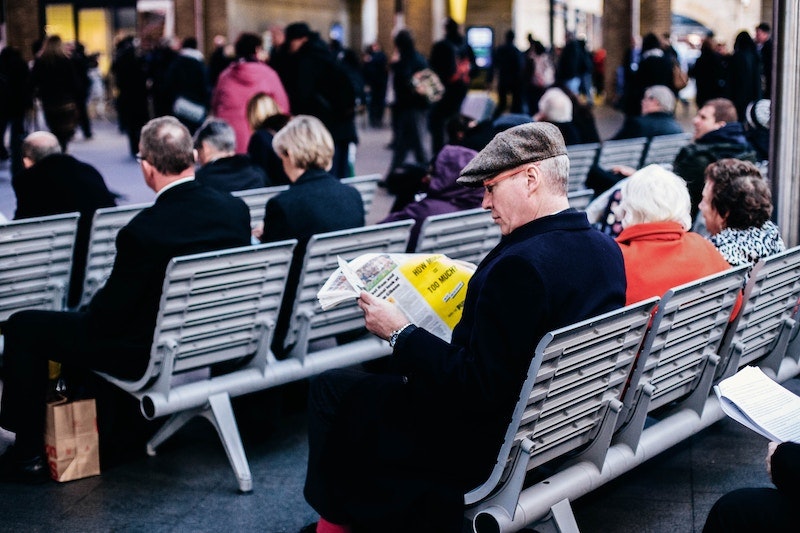 Transit Options at Penn Station
Amtrak

NJ Transit (NJT)

Long Island Railroad (LIRR)

MTA subway: 1, 2, 3, A, C, E; B, D, F, M one block away at Herald Square

PATH to northern New Jersey

Private bus services: Bolt Bus, Vamoose Bus, Tripper Bus, Go Buses
Luggage Storage near Penn Station
With so many reasons to come into New York City via Penn Station, we understand that you'll likely be traveling with bags in tow. Whether you packed a duffel for a weekend getaway, did some damage shopping at Macy's, or simply commute to the city for work and don't want to carry your briefcase with you on a date, Bounce is happy to offer bag and luggage storage in New York just a stone's throw away from Penn Station.

Other places near Penn Station
Frequently asked questions
How much does luggage storage cost near Penn Station?

The price for luggage storage near Penn Station is just $5.90/bag for the entire day.

Is it safe to store your bags near Penn Station?

Yes. Every bag is tagged with a security seal and comes with the $10,000 Bounce Guarantee. Every location is required to uphold tight security precautions. You may be asked to show ID and you will be required to use a credit card to book through Bounce in advance. With hundreds of thousands of bags stored, you can count on Bounce to handle your baggage near Penn Station.

Are there storage lockers near Penn Station?

Yes, there are storage lockers and many other luggage drop off points in the Penn Station area. Bounce has multiple luggage storage locations nearby Penn Station and in the broader New York area where you can conveniently store your luggage with full security and the $10,000 safekeeping gurantee.

Where are the best hotel accommodations near Penn Station?

The top-ranked middle to high-range hotels near Penn Station are Waldorf-Astoria Hotel, Lotte New York Palace, and Hotel Pennsylvania. When traveling on a budget, the best hostels near Penn Station are Chelsea international hostel and Leo house.

Where are the best restaurants near Penn Station?

The most popular restaurants to visit when near Penn Station are Hard Rock Cafe, John's Pizzeria, and Refinery Rooftop.

Where are the best parks and nature attractions near Penn Station?

Check out the nearby The High Line, Bryant Park, and Washington Square Park.

What are the best museums near Penn Station?

While nearby, you can check out MoMA (Museum Of Modern Art), Madame Tussauds New York, and Intrepid Museum.