Store Your Luggage in Times Square
About Times Square
Located at the intersection of Broadway and Seventh Avenue across West 42nd to 47th streets, Times Square is nestled in the heart of Midtown Manhattan. Boldly referred to as "The Center of the Universe," it's visited by an astounding 50 million visitors annually. While Times Square used to be a hotbed for crime, it was cleaned up and marketed towards the masses in the 1990s. It's the proud home of the Broadway Theater District, its namesake New York Times Building, and a wide assortment of commercial and entertainment enterprises.
Fun fact: The ball that drops every New Year's Eve at One Times Square weighs nearly six tons, and the spectacle lures in a million visitors each year.
Things to Do in Times Square
There's so much to see and do in Times Square, so try not to be overwhelmed. While it's surely a shock for the senses, it just might be the best place in New York City to grasp the frenetic energy that defines the Big Apple. Bounce recommends the following Times Square itinerary:
Take a picture with the Naked Cowboy or one of the many bootleg cartoon and superhero characters hustling on the walkway
Attend a world-famous Broadway show or musical such as Hamilton, The Book of Mormon, or Harry Potter and the Cursed Child
Watch a live taping of Good Morning America at West 44th Street and Broadway
Get your laugh on with some of the world's best comedic talent at Carolines on Broadway
Snap photos with your favorite celebrities at Madame Tussaud's Wax Museum
Satisfy your sweet tooth at Hershey's Chocolate World or M&M's World
Play games at Dave & Buster's arcade and sports bar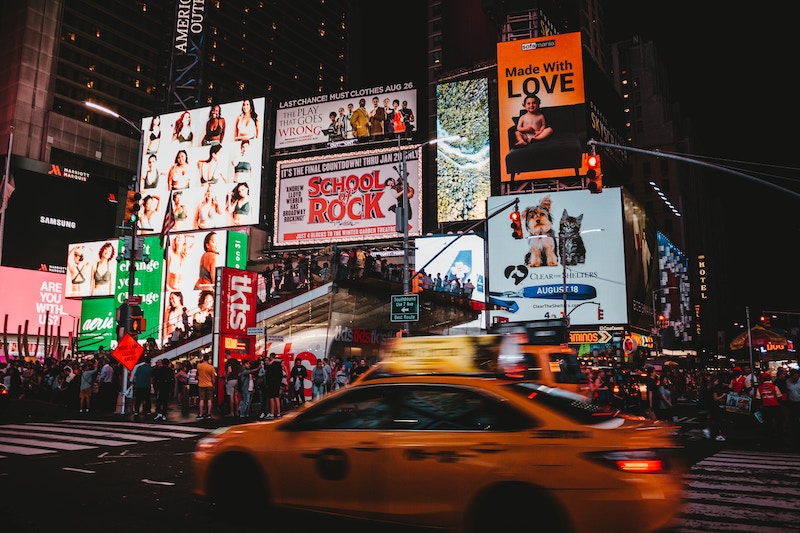 Transit Options in Times Square
Port Authority Bus Terminal
MTA subway: 1, 2, 3, A, C, E, N, Q, R, W, 7, S
NYC Airporter: transfers to/from LaGuardia Airport and John F. Kennedy International Airport
Luggage Storage in Times Square
Want to explore Times Square but can't be burdened with your bags? Bounce has you covered.
Choose from our select partners below for hassle-free bag and luggage storage near Times Square:
Luggage Storage near Port Authority
The Port Authority Bus Terminal (PABT) is the largest bus terminal in the country, serving New Jersey commuters and riders on longer intercity routes. If you're coming into New York City from this major hub with bags in tow, Bounce will be happy to offer luggage storage near Port Authority.
Luggage Storage near Grand Central
Also referred to as Grand Central Station or Grand Central Terminal, this transportation hub doubles as a renowned New York City landmark. While Grand Central has maintained a sense of romanticism and elegance for upwards of a century, it unfortunately doesn't offer luggage storage—which is where Bounce comes in.
Luggage Storage near Penn Station
Penn Station is the busiest railroad station in the Western Hemisphere, serving over 600,000 visitors and commuters each day. While luggage storage at Penn Station isn't available, Bounce has partnered with businesses in the area to offer you safe and reliable luggage storage solutions only minutes away.
Luggage Storage near Newark Airport (EWR)
Newark Airport is one of the three major airports servicing flight passengers to and from the New York metropolitan area. Visitors arriving here can rely on Bounce for luggage storage in New York once they make it into the city.
Luggage Storage near JFK Airport
JFK Airport is the busiest of the Tri-State Area's three major airports, with nonstop and direct flights to six continents across nearly 100 air carriers. While luggage storage at JFK isn't offered to travelers, you can count on Bounce to store your bags at dozens of locations across New York City.
Luggage Storage near LaGuardia Airport (LGA)
LaGuardia Airport is the smallest of New York City's three major airports, and primarily serves domestic travelers. Although luggage storage at LaGuardia isn't available, Bounce has you covered for short-term bag storage throughout many neighborhoods and locations in NYC.
Luggage Storage near Madison Square Garden
Madison Square Garden is an iconic arena known for world-class sports, concerts, and entertainment. MSG doesn't offer coat- and bag-check services, so store your things with Bounce while you enjoy festivities at The Garden.
Luggage Storage in Chelsea
Chelsea is the leading district in Manhattan for art, boasting over 200 world-renowned and up-and-coming galleries. From gallery hopping to walking along the High Line, you'll want to have the freedom to experience all the neighborhood has to offer—which is why Bounce extends plenty of options for luggage storage in Chelsea.
Luggage Storage on the Upper West Side
The Upper West Side (UWS) offers a great mix of residential areas, cultural institutions, and fine and casual dining. If you want to visit the neighboring Central Park free from the burden of your bags, visit one of Bounce's partners for luggage storage on the Upper West Side.
How It Works
Book Online
Find the location closest to you. We have locations all around the city.
Drop Off Items
Show your booking receipt and you're good to go. Secured and insured.
Enjoy the City
Go about your day without lugging around your things.
Pricing
Simple, affordable, no hidden fees
Locations all over the city
Discounts at our partners
Reviews
What people are saying about Bounce
This was so cool!!!! Great service, extremely easy to use, and totally affordable! I didn't know where I'd leave my luggage while we explored San Fran, so I easily Googled luggage storage and found this company. At first it was a little odd dropping my bag off at a chocolate store, but the lady at the register was able to immediately pull up my reservation without any problems and then she put a lock on my suitcase and gave me a card to get it back with. She pushed the bag to the back of their s
Read more
Bounce storage is so convenient. This location is inside the Chancellor Hotel at Union Square, San Francisco. Super convenient location, close to transit, attractions. Hotel staff was professional and very pleasant. Great experience with Bounce and I will definitely use again.
Convenient to the Met, which does not allow luggage at coat check. Very easy check in and check out process, with lovely people at the front!
Can't believe I haven't used this service until now. So easy & convenient. I 100% recommend.
Bounce is the best luggage storage service provider in the New York. I sent an email at midnight , and I got an email back in 10 mins. They are not only solve my issue but also provide solutions. You have to try Bounce !!
I used Bounce during a recent trip to NYC, and I was pleasantly surprised at the ease and convenience of the process. To be honest, at first, I was very apprehensive. The thought of leaving your stuff at a random store, in a place where you are not from and you don't know whether is safe or not, it doesn't matter if anyone gives it a seal of approval, its difficult to be completely comfortable with the idea. However, I was very glad to be proven wrong. The place I chose was a great, clean bodega
Read more
Fantastic experience with Bounce! Stored a bag at the Grand Central location and on my last day at the 9/11 Memorial location. Both locations had friendly, efficient staff that were helpful and made everything very easy. Such a great option if your hotel isn't ready or you don't want the hassle of a bag in the city. Great, safe option. Thanks Bounce!
Frequently Asked Questions
Is there a maximum item size?
How do I cancel my booking?
Can I store my items for a week or a month?
Where are my items stored?
Do you offer hourly storage?
Do you have a location near X?
Are large bags more expensive?