More about St. Petersburg
Where can I store my luggage in St. Petersburg?
St. Petersburg, Russia is one of the best examples of the grandeur of Tsarist Russia. Russia's Peter the Great made the city a sight to see. Thanks to him, the city boasts a beautiful palace that rivals the grandest palaces in Europe. It's also a city that's filled with coffee shops, art museums, world-class hotels and even elegant canals that have earned it the nickname the "Venice of Russia."

In its plentiful museums and galleries, treasure-filled rooms bring world world-class art and culture closer. From beautiful Picassos to ancient Egyptian mummies, art destinations in the city are an art lover's dream. In the summer, it's a city of white nights, as the sun barely slips below the world's horizons. It's then that the city's trees and flowers are in full bloom and the people of St. Petersburg are out to play.

As we do in other amazing world capitals, like Moscow and Paris, Bounce offers travelers convenient options for bag storage in St. Petersburg. The businesses we partner with in this beautiful Russian city are located in easy-to-locate spots around the city. Once you log onto the Bounce app, just look around to find luggage storage in St. Petersburg at or near the places you'll be visiting in the city.

Luggage Storage Near Vitebsky Station

Luggage Storage Near St. Nicholas Cathedral

Luggage Storage Near Peterhof Grand Palace

Luggage Storage Near Pulkovo Airport

Luggage Storage Near Saint Petersburg Train Station

Luggage Storage Near State Hermitage Museum

Luggage Storage Near Mariinsky Theatre
How much does luggage storage cost in St. Petersburg?
Luggage storage in St. Petersburg costs only $5.90 on the Bounce platform for each bag or piece of luggage. 

Where is the nearest bag storage in St. Petersburg?
The Bounce platform offers dozens of bag and luggage storage locations throughout St Petersburg. With 24/7 customer support and up to $5,000 in insurance for every booking, luggage storage in St. Petersburg as never been easier. 

Luggage Storage Near Vitebsky Station
Like many of the railway stations in Moscow, the railway stations in St. Petersburg look like works of art, or palaces, or both. Take Vitebsky Station, for example. Thanks to its stylish marble staircase, stunning balconies, concert hall (complete with grand piano) and intricately designed metal ceilings, it's easy to see why this 19th century station has become a favorite destination for couples in St. Petersburg who need a stunning backdrop for their wedding photos.

But Vitebsky Station offers more than just beautiful trappings. It also holds the distinction of being Russia's first railway station. Despite its age, this fabulous Art Nouveau train station still sees plenty of traffic each day. Passengers traveling to St. Petersburg suburbs, like Pushkinand Pavlovsk, as well as to the Baltic States, Belarus, Ukraine and Central Europe pass through this beauty everyday.

Looking for luggage storage in St. Petersburg near the train station? Then, you'll want to contact one of our partners near the train station and inquire about bag storage in St. Petersburg. Bounce - that's us - partners with businesses like coffee houses, local hotels and even dry cleaning stores: These easy-to-find businesses will gladly take your luggage for the day so that you can lighten the load as you travel and sight-see.

Luggage Storage Near St. Nicholas Cathedral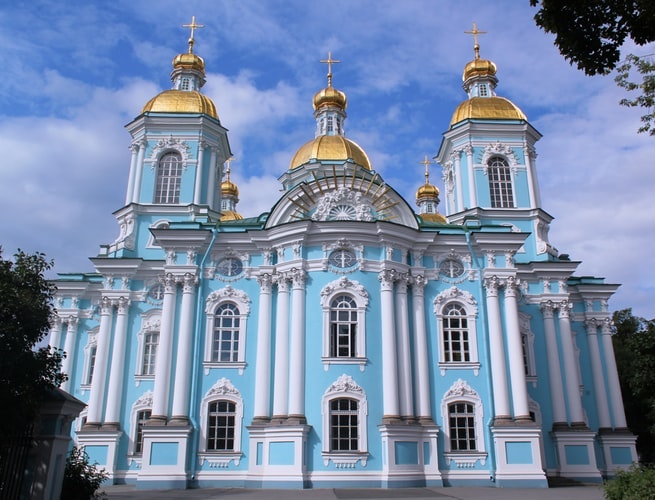 St. Nicholas, the patron saint of Christmas, also happens to be the patron saint of sailors. As such, the cathedral named after him in St. Petersburg is often called the "sailors' church." This stunning 18th century Baroque cathedral, with its white, blue and gold facade, is as breathtakingly beautiful on the inside as it is on the outside.

Stepping inside St. Nicholas Cathedral (also more formally known as the Naval Cathedral of St. Nicholas), you'll be met with intricately decorated walls that tell the story of the Russian Navy, or at least parts of its story. Plaques and memorials inside the church and in the square next to the church's grounds pay homage to Russia's fallen naval soldiers.

If your sightseeing plans include a trip to St. Nicholas Cathedral, then be sure to consult your Bounce app to take a look at the options for luggage storage in St. Petersburg near the cathedral.

Luggage Storage Near Peterhof Grand Palace
The Grand Palace at Peterhof gets its name from Peter the Great. It was originally intended to be the Russian version of the Palace of Versaille. Originally, the Tsar's home was to be in Strelna, but this location proved unsuitable, and eventually, St. Petersburg was chosen as the palace's home.

Once inside, it's difficult not to feel impressed by how lavish the interiors of the palace are. The Ceremonial Staircase, which greets visitors upon entry, provides a visual teaser of things to come. Marvelous frescoes, stunning statues, gilded ballrooms and a Chinese Study are just a few of the sights that you'll see on a tour of the palace. What's even more remarkable about the Grand Palace at Peterhof is that most of it is a reconstruction. Like many buildings in Europe, it sustained significant damage during World War II. It had to be reconstructed, almost in its entirety, to become the building that is is today.

Be sure to find luggage storage in St. Petersburg before you head off to explore the palace. This grand edifice deserves your undivided attention, and fortunately, Bounce's partners in the area can help you make that happen. Log onto our app to learn more.

Luggage Storage Near Pulkovo Airport
Pulkovo Airport, which was formerly named Fyodor Dostoyevsky International Airport, serves millions of people each year. In fact, at its peak, more than 10,000,00 people came through the doors of this airport. Located 23 kilometers outside of St. Petersburg's city center, construction on this airport began in the early 1930s. The first aircraft arrived at the airport on the 24th of June in 1932.

Today, major airlines, like Air France, Air Malta, KLM, Lufthansa, Qatar Airways and Swiss International Air Lines fly to and from St. Petersburg via Pulkovo Airport. If your travels bring you here as well, then take a look at our options for luggage storage in St. Petersburg in or around the airport.

Luggage Storage Near Saint Petersburg Train Station
The Saint Petersburg railway station is the city's oldest, still preserved train station. Construction began on this station in the mid-1940s and didn't get completed until 1951. Originally, the station went by the name of Nicholaevsky, a name that honored Nicholas I. Later, the name of the station was changed to Oktyabrsky, which honored 1924's October Revolution. It got its present name at the beginning of the 1930s.

Much of the look of the station was inspired by the Italian Renaissance. (Think Corinthian columns and Venetian windows.) However, the station's architecture is also a mix of styles, making a beautiful yet, slightly eclectic building to behold. Finally, this station is the Saint Petersburg-Moscow Railway terminus, and trains from Siberia, Eastern Ukraine and Crimea, to name but a few, run through this station on the regular.

Options for luggage storage in St. Petersburg include drop points near this railway terminal. A quick check of your Bounce app will pull up a list of businesses near the station. Contact one of them today if you need bag storage in St. Petersburg near here.

Luggage Storage Near State Hermitage Museum
Thousands of people pass through St. Petersburg's most popular destination attraction. This world-class museum boasts a collection of more than three million items: In fact, by some estimates, it would take one person 11 years to make it all the way through the museum and to see each item in the collection.

But don't worry. If that seems a bit overwhelming, guided tours of the museum are available, allowing you to get a good overview of what the museum has to offer. These tours should help you navigate the five of the six buildings that are open to the public. However, true art fans might find the museum more satisfying if they trek through it on their own. If they do, treasure upon treasure from centuries of art history await them.

The museum offers free days on the third Thursday of each month. However, children and students can visit the museum daily for free. Taking advantage of all that the State Hermitage Museum has to offer may inspire you to seek out luggage storage in St. Petersburg near the museum. Given how large this building is, it is likely that you'll find a visit to the museum with bags in tow one tiring prospect. Why not let us take care of your bags while you go off and explore some of the world's greatest pieces of art?

Luggage Storage Near Mariinsky Theatre
A night at the theater is the best medicine for the travel weary, and the Mariinsky Theatre is just the place to heal and renew your soul after a long day of traveling. To enjoy this St. Petersburg attraction, it's best to do so unencumbered. Log onto the Bounce app to check out your options for luggage storage in St. Petersburg near the theater.